Last Updated On 06 April,2018 09:42 pm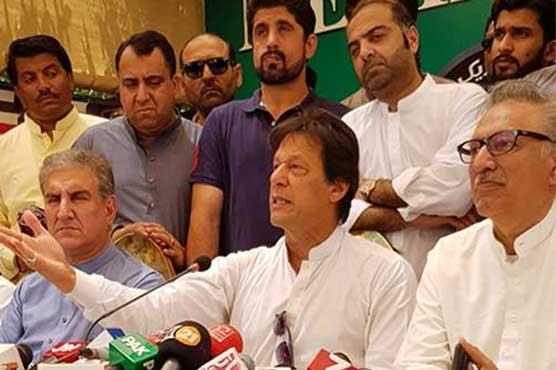 Imran Khan said that the scheme has been introduced to favor thieves.
HYDERABAD (Dunya News) – Pakistan Tehreek-e-Insaf (PTI) Chief Imran Khan on Friday rejected amnesty scheme for the non-taxpayers and announced to challenge it in the court.

Talking to media, Imran Khan said that the scheme has been introduced to favor thieves. He has directed the leaders to raise the issue at every forum.
---
Also Read: PM announces tax reforms package, amnesty scheme for undeclared assets
---
Lashing out at ex-prime minister, Imran Khan said that Nawaz Sharif has incited people against government institutions. He said that Sindhis have also decided to not vote Pakistan Peoples Party (PPP) this time.

Earlier, Imran Khan stated that Tax Amnesty Scheme presented by Prime Minister Shahid Khaqan Abbasi was an attempt to turn black money into white.
"All such amnesties scheme has failed till date. Only robbers benefit from these initiatives. What is the motive to introduce amnesty scheme when elections are just 1.5 months away", inquired Khan.
While making it overtly clear that PTI wouldn't accept the aforementioned scheme, Khan vowed to quash it if PTI formed government in the center.
"Federal government has punished those who are paying their taxes regularly", asserted Khan.

Khan also took a jibe at provincial government of Pakistan Peoples Party (PPP). "Masses are oppressed in Sindh via police. Fake cases were lodged against innocents on directives of Asif Ali Zardari whereas people fear the national culprit [read Asif Zardari]", Khan stated while adding, "Sindh IG confessed to involvement of 2500 policemen in crimes".