Last Updated On 06 April,2018 05:05 am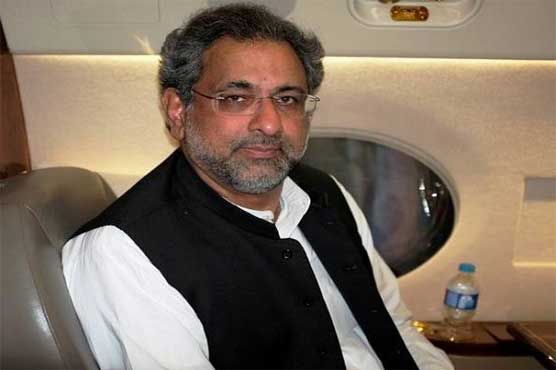 PM Abbasi will have in-depth consultations with Afghan leadership during the visit.
ISLAMABAD (Dunya News) – Prime Minister Shahid Khaqan Abbasi will leave for a daylong visit to Kabul today (Friday) on the invitation of Afghan President Muhammad Ashraf Ghani.
PM Abbasi will have in-depth consultations with Afghan President Ashraf Ghani and Chief Executive Dr Abdullah Abdullah on matters of mutual interest, including strengthening bilateral political, economic, security and counter-terrorism cooperation, return of Afghan refugees, combating drug production and narco-trade, Afghan peace process and regional political and security situation.
The Prime Minister will also meet senior Afghan political leaders during the visit.
According to Pakistan Foreign Office, the Prime Minister s visit is taking place in the backdrop of Pakistan s support to President Ghani s offer of peace talks with the Taliban for lasting peace and stability in Afghanistan and strengthening bilateral engagement.
The Foreign Office said that Pakistan will continue to support Afghanistan s development efforts through capacity building in infrastructure, educational and health sectors in Afghanistan.
Pakistan also aspires to deepen people to people contacts. In this regard, the Prime Minister would discuss with the Afghan leadership ways to facilitate travel between the two countries, assist education and medical treatment of Afghan nationals in Pakistan and expand trade and transit facilitation between the two countries.
To promote regional economic integration, the two countries are participating in key trans-regional initiatives namely Turkmenistan-Afghanistan-Pakistan-India (TAPI) gas pipeline and Central Asia - South Asia Electricity Transmission and Trade Project (CASA-1000). The Prime Minister recently joined Afghan President in Herat to inaugurate the TAPI gas pipeline project. The two sides are also engaged in undertaking major bilateral rail-road connectivity projects.
The Prime Minister s visit to Afghanistan is aimed at strengthening the positive momentum in bilateral relations and to help augment joint endeavours in the pursuit of durable peace, stability and economic prosperity in the two countries, and the region.