Last Updated On 13 March,2018 10:33 am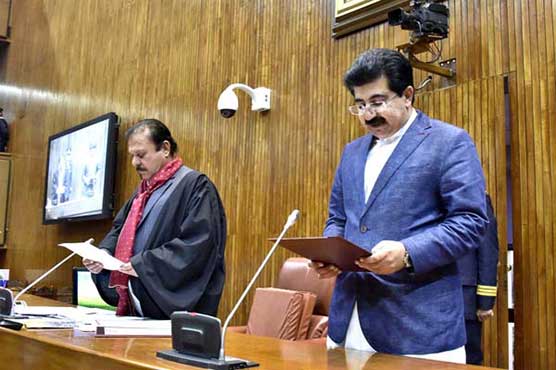 Sadiq Sanjrani won Senate election for chairmanship on Monday after polling concluded in upper house
ISLAMABAD (Dunya News) – Independent candidate from Balochistan, backed by joint opposition Sadiq Sanjrani has won Senate election for chairmanship with as many as 57 votes against 46 of ruling party's candidate on Monday.
Raja Zafarul Haq of Pakistan Muslim League-Nawaz (PML-N) and Sadiq Sanjrani, a joint candidate of opposition parties contested for Senate chairmanship with the latter, backed by Pakistan People's Party (PPP), Pakistan Tehreek-e-Insaf (PTI) and Muttahida Qaumi Movement (MQM), recording a convincing victory with 57 votes against former s 46.
For deputy chairman, the freshly elected chairman will make an appointment out of two candidates namely Usman Kakar of Pakhtukhwa Milli Awami Party (PkMAP) and Salim Mandviwalla of Pakistan People's Party (PPP).
Following the conclusion of polling, Sanjrani was administered oath to and sworn in by senator Sardar Yaqoob Khan Nasir, formally electing him the Senate chairman.
Yaqoob Khan was nominated by the president earlier today to swear in freshly elected senators and chairman today.
---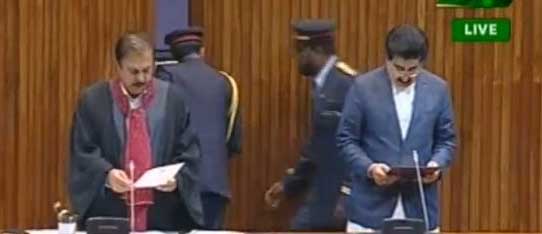 Sadiq Sanjrani, backed by joint opposition sworn in as Senate chairman
---
Bio: Sadiq Sanjrani
---
The newly elected Senate chairman began his political career in 1998 by serving as coordinator of then premier, former head of PML-N Nawaz Sharif in Balochistan until coup in 1999.
He served as the head of complaint cell in Prime Minister Secretariat during tenure of PPP s Yousaf Raza Gilani that began in 2008. He also served as special assistant to former chief minister of Balochistan Sanaullah Zehri until he tendered his resignation.
He served as director of board of Pakistan Bait-ul-Mal as well.
Sanjrani was elected to the Senate in 2018 as an independent candidate from Balochistan province.
The lawmaker was born in 1978 on April 14 in Nok Kundi area of the province.
---
Fresh senators take oath
---
Earlier in the day, 51 new senators were sworn in at 10:00am after they won Senate polls held on March 3. And polling via secret ballot to elect new leader of the Upper House kickstarted at 04:00pm today.
Three senators belonging to Jamiat Ulema-e-Islam-Fazl (JUI-F) were initially absent namely, Maulana Faiz Muhammad, Abdul Ghafoor Hyderi and Attaur Rehman but they returned before the polling concluded.
PML-N's Mushahidullah and Abdul Qadir Baloch briefly conversed with JUI-F's members upon their return.
The session was adjourned until further notice after the oath-taking ceremony.
---
Number game
---
According to the announcements made ahead of the polling, JUI-F, Awami National Party (ANP) and Pakistan Muslim League-Functional (PML-F) were to vote for PML-N's candidate Raja Zafar-ul-Haq while Pakhtunkhwa Milli Awami Party (PK MAP) and Balochistan National Party (Mengal) as well.
---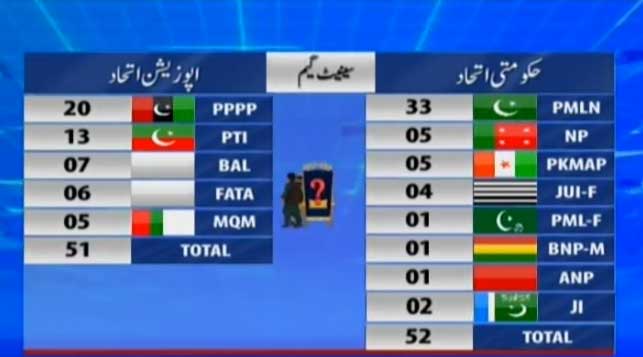 ---
Also Read: PML-N nominates Raja Zafar-ul-Haq as candidate for Senate chairman
---
However, Jamat-e-Islami also announced to vote for PML-N in the polls despite its alliance with PTI in Khyber Pakhtunkhwa (KP) province and terms as opposition parties.
---
PTI, PPP and Balochistan panel
---
Earlier, PPP chairman Bilawal Bhutto announced that Sadiq Sanjrani was opposition s joint candidate for Senate chairman. He was backed by PTI and Balochistan panel as well.

On the other hand, MQM has also pledged support to Sadiq Sanjrani after which he may get 51 votes.