Last Updated On 12 March,2018 07:11 pm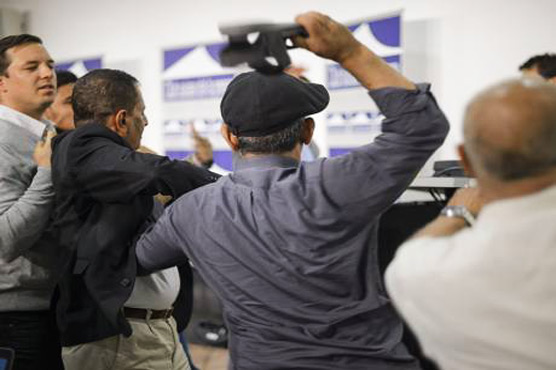 With the rise of political temperatures across the country, the frequency of shoe-attacks has also seen a jump with two incidents of such natures occurring over the past weekend. Photo: AFP
(Dunya News) – The recent incidents of politicians being targeted in shoe and ink-attacks during public gatherings has stirred debates on mainstream and social media about the level of political tolerance in the society as well as the motives behind such attempts.
With the rise of political temperatures across the country, the frequency of shoe-attacks has also seen a jump with two incidents of such natures occurring over the past weekend.
On Sunday, former Prime Minister Nawaz Sharif was attacked with a shoe during a seminar held in Lahore at the Jamia Naeemia.
This was the second such attack over the weekend. An attempt to hurl a shoe at Pakistan Tehreek-e-Insaf chief Imran Khan was thwarted in Faisalabad the same day Sharif was attacked by a shoe.
On Saturday, a man threw ink on Foreign Minister Khawaja Asif while he was addressing a workers convention in Sialkot.
In the past, several foreign as well as Pakistani leaders have become victim of shoe-attacks. Here's a look at some of the major incidents.
In 2008, former US President George W. Bush was attacked during a ceremony with shoes in Iraq by a journalist. The shoes missed the target.
Shoes were also hurled at British Prime Ministers David Cameron and Tony Blair.
Former US Foreign Minister Hillary Clinton was also attacked with shoes by a woman during a ceremony in Las Vegas.
Former Australian PM John Howard also became the victim of a shoe-attack by an anti-Iraq war activist during a show.
India has also witnessed similar attacks with former Indian premier Manmohan Singh and former minister Chidambaram having had shoes hurled at them. The list also includes chief of the Aam Aadmi Party, Arvind Kejriwal and former Chief Minister of Occupied Kashmir Omar Abdullah.
Meanwhile, in Pakistan, while the frequency of the attacks increased just lately, the practice isn't new. Former Chief Minister Sindh Dr. Arbab Ghulam Rahim was attacked by a show in the Sindh Assembly. Former President Gen. Pervez Musharraf was also attacked by a shoe during an event in England.
For more on this, watch a report by Dunya News below.
---
---