Last Updated On 24 February,2018 04:58 pm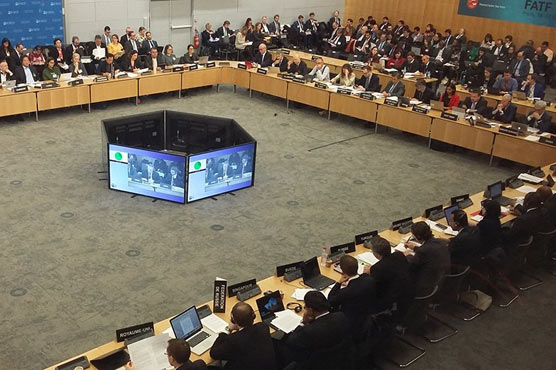 There was no mention of Pakistan in the terrorist financing watchlist
ISLAMABAD (Dunya News) -- Pakistan has not been mentioned in the terrorist financing watchlist issued by Financial Action Task Force (FATF) despite reports in the international and national media saying the contrary.
According to a official statement of FATF on February 23, the countries made part of the so-called "grey list" include Ethiopia, Iraq, Serbia, Sri Lanka, Syria, Trinidad and Tobago, Tunisia, Vanuatu and Yemen.
However, Pakistan will be included in the list in June this year, sources told.
Earlier in the week China, Turkey, and the Gulf Cooperation Council (GCC) were opposing the U.S.-led move against Pakistan but by Thursday night both China and Saudi Arabia dropped their opposition.
FATF issues a list thrice in one year of countries that failed to maintain international standards in countering money laundering and combating financing for terrorism (AML/CFT). Sources claimed that Pakistan has received a reprieve of three months, which is till June when it is time for the second list of the year.
Pakistan Stock Exchange (PSX) closed with a decline of 261 points to 43,267 amid widespread selling pressure and red signs from FATF.
In a message posted on Twitter, Interior Minister Ahsan Iqbal said there is no official intimation of #FATF decision yet and "we should not speculate till official statement is released". He also thanked Turkey for its support.
---
No official intimation of #FATF decision yet. We should not speculate till official statement is released.

— Ahsan Iqbal (@betterpakistan) February 23, 2018
Thank you Turkey for standing with Pakistan against all odds & proving that we are one. We are proud to have a brother like you.

— Ahsan Iqbal (@betterpakistan) February 23, 2018
---
The move comes days after reports that Pakistan had been given a three-month reprieve before being placed on the list, which could hamper banking and hurt foreign investment.
FO responds to Pakistan's nomination into 'grey list' under FATF
Foreign Office spokesperson (FO) responded to the question in today's press briefing, saying "Pakistan has serious concerns over and objections to the introduction of this new nomination procedure which is unprecedented and in clear violation of established rules/practices of FATF". He added that most of the concerns raised by the US side regarding deficiencies in our CFT/AML regime had already been addressed in 2015 when Pakistan got an exit from the "grey list".
---
READ: Pakistan could face economic pain if placed on FATF watchlist
---
On Tuesday, Foreign Minister Khawaja Asif tweeted that Pakistan had received a 3-month reprieve, adding that it was "grateful to friends who helped".
Washington has spent the past week lobbying member countries of the Financial Action Task Force (FATF) to place Pakistan on the so-called "grey list" of nations that are not doing enough to combat terrorism financing.
Pakistan was previously on the list for three years until 2015.
Pakistani officials and analysts fear being on the FATF watchlist could endanger its handful of remaining banking links to the outside world, causing real financial pain to the economy just as a general election looms in the summer.
Under FATF rules one country's opposition is not enough to prevent a motion from being successful. Britain, France and Germany backed the U.S. move.