Shahzeb murder case: Shahrukh Jatoi, other accused arrested on SC order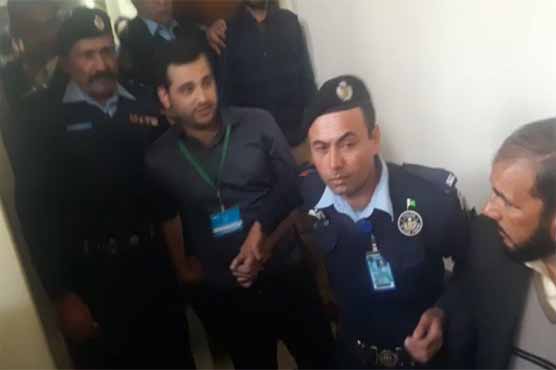 SC changed the appeal in Shahzeb Khan murder case into suo motu notice, and nullified the SHC order
ISLAMABAD (Dunya News) – Shahrukh Jatoi, the prime accused in Shahzeb murder case, and two other accused have been arrested again on the order of the Supreme Court today (Thursday).
The apex court changed the appeal in Shahzeb Khan murder case into suo motu action, and nullified the Sindh High Court (SHC) order to remove charges of terrorism on Jatoi. Consequently, the bail issued by SHC to Jatoi was dismissed.
After the bail was nullified, police arrested the suspects including Jatoi. SC has given a deadline of two months to SHC and directed it to decide the appeals on merit.
SC restored the terrorism charges on Jatoi as the Chief Justice of Pakistan (CJP) Mian Saqib Nisar led the three-member bench to hear appeals filed by the civil society against SHC order. SC also ordered to place the names of the suspects on Exit Control List (ECL).
As soon as the top court announced its order, the suspects were taken into custody within the courtroom. The other suspects include Siraj Talpur and Sajjad Talpur.
---
Suspended SHC order
---
In December 2017, Jatoi and other suspects were released on bail on SHC order. The court ordered the suspects to submit surety bonds worth Rs5 lac for the approval of bail plea. The decision was made after Shahzaib's father submitted agreement copy in the court. "Shahzaib's family forgave (Shahrukh Jatoi) in the name of Allah. They didn't take any cash," brother Ashraf Jatoi said while talking to media.
"What Shahrukh Jatoi and his friends did was wrong."
SHC had also suspended death sentences awarded to criminals Shahrukh Jatoi and Siraj Talpur, saying that the session court would look into the terror sections in the case.
Shahzaib Khan, a Karachi student was murdered in December 2012 and son of a feudal Shahrukh Jatoi among four criminals were awarded sentences by an anti-terrorism court. Jatoi and Talpur were sentenced to death while Sajjad Talpur and Ghulam Murtaza Lashari were sentenced to life imprisonments.
However, an affidavit was filed with the court by parents of the slain student, Deputy Superintendent of Police (DSP) Aurangzeb Khan and wife in 2013 pardoning both the murderers and the accomplices.