Last Updated On 09 January,2018 11:30 pm
The premier advised Sanaullah Zehri to resign after consulting with Nawaz Sharif.
QUETTA (Dunya News) – Balochistan Chief Minister (CM) Nawab Sanaullah Zehri has on Tuesday resigned from his office upon Prime Minister (PM) Shahid Khaqan Abbasi's advice.
---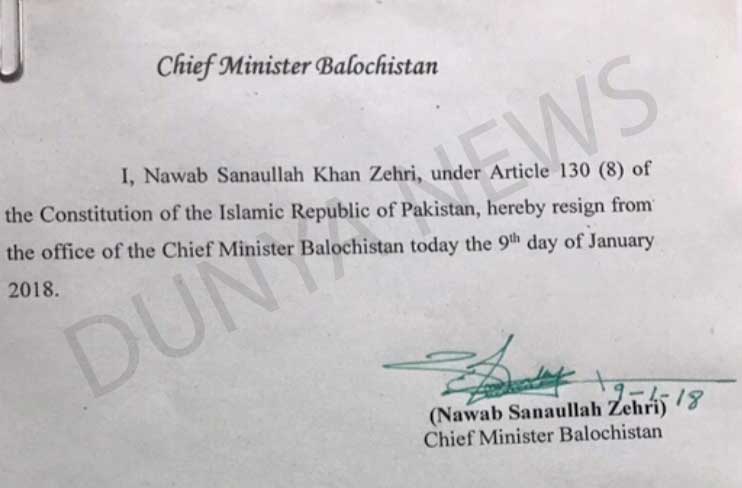 Copy of the resignation obtained by Dunya News
---
Resignation of the Balochistan CM has come in after over a week-long political crisis after a no-confidence motion was compiled against him in the assembly and at least six ministers had resigned.
Balochistan governor has approved resignation of CM Zehri.
---
Read: No-confidence motion to be presented against Balochistan CM today
---
Sources privy to the government have reported that home minister Sarfraz Bugti, Changez Khan Marri and Saleh Bhootani are being considered to replace Zehri as the chief minister of Balochistan.
PM Shahid Khaqan Abbasi has called on PML-N chief Nawaz Sharif after resignation of Zehri was approved, to review the situation and political front s standing in the province.
According to sources, the premier advised Sanaullah Zehri to resign after consulting with Pakistan Muslim League-Nawaz (PML-N) President Nawaz Sharif to avoid horse-trading and dispute within the party.
---
No-confidence motion
---
It is worth mentioning here that a no-trust motion against Balochistan Chief Minister was scheduled to be presented in the assembly today where members had started to arrive however the session was postponed for an indefinite period of time.
The CM will hold an important press conference shortly in which he will present his viewpoint.
At least 14 provincial lawmakers signed on the motion against Sanaullah Zehri last week.
Former deputy speaker Mir Quddus Bizenjo had tabled the motion. It was told that the blockage of funds and pending decision on the deputy speaker added fuel in fire.
Sarfaraz Bugti had claimed that the number of dissenting MPAs of Balochistan has gone 41 against CM Sanaullah Zehri. A group of ministers had also addressed a press conference in the provincial capital and claimed that number of ministers who have reservations over CM Zehri leading the provincial government would rise.