Zardari calls on PAT chief in Lahore, endorses Model Town massacre stance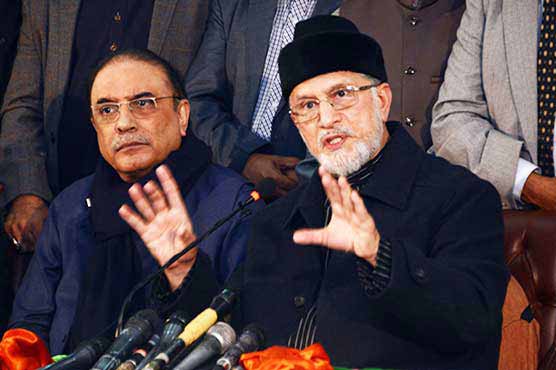 Pakistan People's Party (PPP) co-chairman Zardari convened a meeting with Dr Qadri in Lahore
LAHORE (Dunya News) – Former president Asif Ali Zardari called on Dr Tahirul Qadri, Pakistan Awami Tehreek (PAT) chief on Friday and endorsed his stance on Model Town massacre.
Pakistan People's Party (PPP) co-chairman Zardari convened a meeting with Dr Qadri in Lahore ahead of PAT chief's call for all political parties to attend an all parties conference (APC) on December 30.
During the meeting, Zardari thanked Dr Qadri for invitation to participate in the APC and deliberated over Model Town massacre and developments concerning it in detail. The two leader addressed a joint press conference following the meeting.
Zardari said that Punjab Police opened fire against innocent locals and 14 lives were lost while hundreds wounded in the clashes.
PPP co-chairman asserted that the political front has always raised voice against violence and said that the party stands united with PAT over its stance in the Model Town case.
The former president demanded off law minister Rana Sanaullah and Punjab Chief Minister (CM) Shehbaz Sharif to tender their resignations. He hoped that sacrifices rendered by 14 people in Model Town massacre would bear fruit one day or the other.
Dr Qadri told the media that PAT welcomes Zardari-led delegation of PPP and that the meeting discussed agenda of the forthcoming APC.
PAT leader further announced that PPP agrees with all the clauses put forth by PAT over Model Town incident and that the APC would formally begin at 12:45pm tomorrow (Saturday).
It should be noted that the APC was earlier to be convened on December 28 but was pushed by two days by Dr Qadri.
Pakistan Tehreek-e-Insaf (PTI) chief Imran Khan has also confirmed his participation in the meeting to bring perpetrators of the lives lost on July 17, 2014 to justice.
Dr Qadri addressed a joint press conference with Imran Khan earlier this week.