Supreme Court verdict: Imran Khan remains safe, Jahangir Tareen disqualified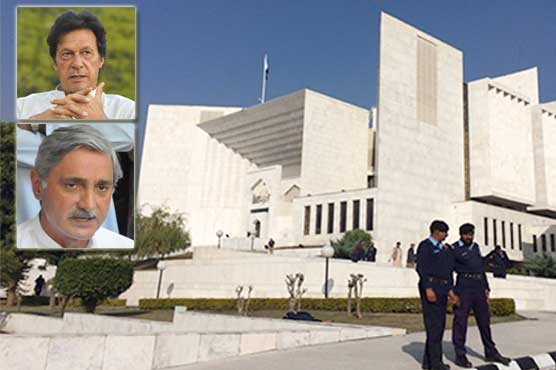 Supreme Court has announced verdict in Imran Khan disqualification case.
ISLAMABAD (Dunya News) – While announcing the verdict on PML-N leader Hanif Abbasi's petitions, the Supreme Court (SC) of Pakistan on Friday dismissed plea to disqualify Pakistan Tehreek-e-Insaf (PTI) Chairman Imran Khan.
Chief Justice of Pakistan (CJP) Mian Saqib Nisar said Imran Khan was not liable to declare Niazi Services Ltd in his 2013 nomination papers as he was not a shareholder.
Bani Gala is Khan's property and he bought the land for his family, the CJP announced.
Meanwhile, the apex court disqualified PTI General Secretary Jahangir Tareen for life, stating that the reply submitted by Tareen was a confession in itself, thus, he stands disqualified under Article 62 (1) (F) of the Constitution of Pakistan.
---
VIDEO:
---
Speaking outside the court, PTI leader Fawad Chaudhry said that Tareen was disqualified on "technical ground" in relation to his property in the United Kingdom (UK).
The matter would be "looked into", he added.
---
ALSO READ: Jahangir Tareen questions his disqualification
---
While announcing the verdict, the apex court has also dismissed the allegation of foreign funding against PTI.
The court referred the issue of foreign funding of PTI to the Election Commission of Pakistan (ECP) for minute examination. The court said that Jehangir Tareen has admitted of involvement in insider trading.
---
CASE HISTORY
---
Hanif Abbasi had filed the petition in November last year, accusing the PTI leaders Imran Khan and Jahangir Tareen of not declaring their assets to the ECP and violations of the lncome Tax Ordinance, 1979, and Peoples Act, 1974.
The apex court had summoned first reply from Imran Khan on November 7, 2016 which was submitted in form of an affidavit on November 23. He had maintained that the piece of land in Bani Gala was bought through rightfully earned money and legal means.
Later, the bench was dissolved with retirement of the then CJP Anwar Zaheer Jamali and case remained adjourned for five months.
It was later taken up by incumbent CJP Mian Saqib Nisar while a new three-member bench was constituted for the hearing.
On 18th of May 2017, Imran Khan submitted second affidavit stating that he took loan from ex-wife Jemima Goldsmith while statement of Imran Khan's agent Rashid Khan was also submitted with apex court on same day. Political rivals equated Rashid Khan's statement with Qatari letter.
---
Khan confessed to half-finished money trail
---
Khan confessed to incomplete money trail on July 22 when court raised undeniable legal questions on the affidavit. However, Khan's counsel nullified legal status of Imran Khan's offshore company after sale of London flat back then in 2003.
During proceedings, court questioned legal status of transactions worth millions of British Pounds and Euros after sale of London flat and nullification of Khan's offshore company. Upon this, Abbasi's lawyers pointed out that Khan's council had changed stance for the third time during proceedings and requested court to disqualify Khan over submission of misleading statements both in court and nomination papers.
During concluding arguments, Bukhari took the stance that his client mistakenly did not declare offshore company in the nomination papers but the same couldn't be termed as an intentional act.
CJP, during last session of proceedings, remarked that the court would announce verdict on the basis of available material and that court was trying to dig the truth.
---
Read complete verdict:
(Story edited by: Tayyab Younas)