Mustafa Kamal voices support for Qadri to get justice for Model Town tragedy victims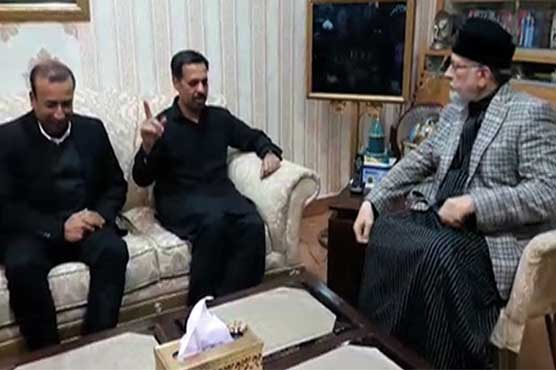 Mustafa Kamal is also likely to join Qadri in a movement against Punjab government.
LAHORE (Dunya News) – Pak Sarzameen Party (PSP) Chief Mustafa Kamal met Pakistan Awami Tehreek (PAT) Chairman Tahir-ul-Qadri in Lahore today (Saturday).
In a movement against Punjab government over Model Town incident, Mustafa Kamal also joined Qadri after Pakistan Tehreek-e-Insaf (PTI) Chief Imran Khan and Pakistan Peoples Party (PPP) Co-chairman Asif Ali Zardari's support.
Talking to media, both leaders declared Chief Minister of Punjab (CM) Shehbaz Sharif and Law minister Rana Sanaullah as responsible for the Model Town massacre. They said that the innocent people were mercilessly killed by the police.

Mustafa Kamal said that everyone is busy in saving the government and no one is working for the development of the country.
Earlier, leaders of the opposition parties voiced their support for PAT Chief Dr Tahirul Qadri to give tough time to the Pakistan Muslim League-Nawaz (PML-N) government in the wake of revelations made by Model Town tragedy inquiry tribunal.
Imran Khan said that he will join PAT whenever it comes out on the roads to protest against Model Town incident while PPP's Zardari also expressed solidarity with PAT, seeking justice for the victims of Model Town massacre.
---
'PAT WORKERS SHOULD GET READY'
---
In a press conference in Lahore on Wednesday night, Dr Tahirul Qadri instructed his supporters to remain alert and prepare to protest against the government seeking justice for lives lost in deadly clashes in Model Town.
---
READ: Dr Qadri alerts PAT workers for protest call
---
PAT chief said that the party would get hands on the 'real report' after court's order are issued. He said that the dates mentioned in the commission report give birth to suspicions. He claimed that the report has enough content to hold Shehbaz Sharif and Punjab law minister Rana Sanaullah responsible for the innocent lives.
Qadri hailed the report as an unbiased account of a judge over the incident. He felicitated Justice Ali Baqar Najafi for compiling an alleged unbiased report.