Dr Qadri alerts PAT workers for protest call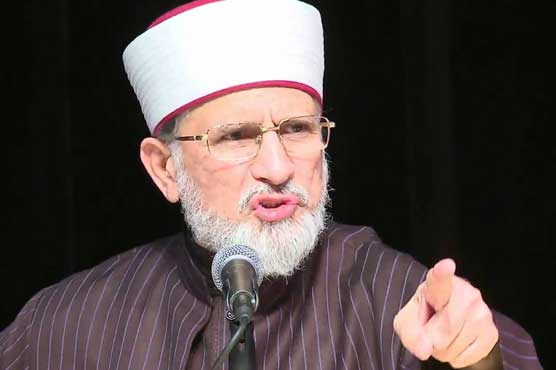 PAT chief instructed workers of the political party to remain alert and prepare to protest.
LAHORE (Dunya News) – Pakistan Awami Tehreek (PAT) chief Dr Tahirul Qadri has directed workers on Wednesday to remain alert and wait for a call to launch protests against the government of Punjab Justice Ali Baqar Najafi commission report pointed fingers at Punjab Police and government's inaction in Model Town incident.
Dr Qadri addressed a press conference in the provincial capital today during which he instructed workers of the political party to remain alert and prepare to protest against the government seeking justice for 14 lives lost in deadly clashes in Model Town on June 17, 2014.
PAT chief said that the party would get hands on the 'real report' after court's order are issued. He said that the dates mentioned in the commission report give birth to suspicions.
---
Know also: PAT acquires verified copy of Model Town incident report
---
Purported warning of the PAT chief has come in a day after Lahore High Court (LHC) ordered Punjab government to make the one-member commission s inquiry report public over Model Town tragedy, that was held by the authorities for over three years.
He said that legal team and core committee of the party are to convene a meeting tomorrow to contemplate front s next move and review the verdict in detail.
Dr Qadri has claimed that the report has enough content to hold chief minister (CM) Shehbaz Sharif and Punjab law minister Rana Sanaullah responsible for the innocent lives loves and violent clashes that erupted.
He disputed CM Shehbaz s claim of having learnt about the incident through television channels by asserting that the report reads that Tauqeer Shah was instructed by the CM to participate in the talks. He alleged the government of moving Tauqeer Shah to Switzerland for the said reason.
Dr Qadri hailed the report as an unbiased account of a judge over the incident. He felicitated Justice Ali Baqar Najafi for compiling an alleged unbiased report.
PAT chief further said that the locals of Model Town had pleaded the high court to erect barriers in the areas for security and those who ordered for the deadly operation knew about the ruling.
---
Click here to read complete report of Justice Ali Baqar Najafi commission