Last Updated On 01 December,2017 07:35 pm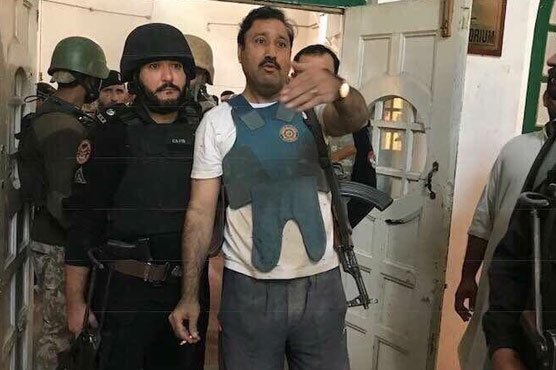 Sajjad reached site in sleeping suit for operation against terrorists inside Agriculture Directorate
PESHAWAR (Dunya News) – As soon as the five terrorists opened firing at the Agriculture Directorate located in front of Peshawar University on early Friday, security forces including Khyber Pakhtunkhwa (KP) Police and Pakistan Army contingents gave a befitting reply and quickly took control of the situation.
One name emerged in the heroic counterattack and that was of Senior Superintendent of Police (SSP) Sajjad Khan. His undeniable professionalism was commended as he reached the site in his sleeping suit and conducted a successful operation along with KP Police and Pakistan Army.
The senior police officer reached the area under attack to lead the troops as soon as he was informed in the morning which was supposed to be a holiday for him due to 12th of Rabiul Awwal.
---
SSP SAJJAD KHAN reached the site in his sleeping suit and conducted a successful operation along with KPK Police and Pakistan Army.
Thank you for this commendable response against the terrorist. Thank you for protecting us.#PeshawarAgricultureDirectorate #PoliceAwamSaathSaath pic.twitter.com/DS00dytWKp

— Police Awam (@PoliceAwam) December 1, 2017
#Peshawar
Salute to @KP_Police1 for the dare fight with terrorists Specially Tahir Khan CCPO and Sajjad Khan SSP Operations Peshawar @sajjadk7 for leading Police from the front in terror encounter. Kpk Police we Proud of You pic.twitter.com/B4WANCJaKp

— HAROONURRAUF* PTI* (@3373Haroon) December 1, 2017
#ProudOfKPKPolice_Army
KP Police faced terrorists as first tier and neutralized 3 of them. Army reached as backup and provided further assistance.
SSP Operations Sajjad Khan leading from front pic.twitter.com/HYwX33h4qC

— MudasarPTI (@Mudasar4nation) December 1, 2017
---
He was one of the first senior policemen to reach the Agriculture Directorate where terrorists had taken hostage the students in hostels and resorted to intermittent firing. Khan led from the front in operation against suicide bombers in order to clear the site as soon as possible to avoid the loss of precious lives.
The attack of gun-laded terrorists was foiled by brave policemen like him in the Peshawar police department.
He was photographed wearing a sleeping suit, wearing a Klashinkof on his shoulder and cigarette in his hand. The extremely courageous officer took the internet by storm as people commended him for his service to the nation.
---
At least nine were killed with 38 injured as five burqa-clad terrorists stormed the building and resorted to intermittent firing. The area was cleared by the security force after the operation while those injured are undergoing medical treatment.