LHC merges contempt of court petitions against Nawaz Sharif, Maryam Nawaz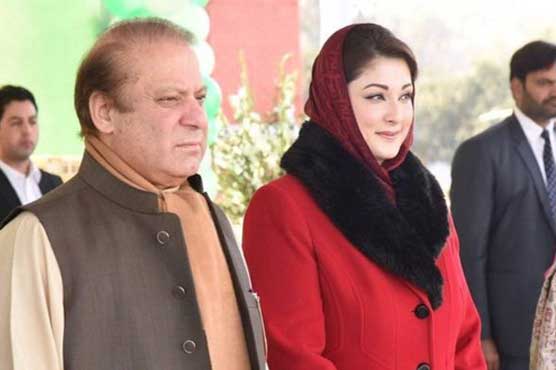 The court issued notice to Maryam Nawaz over her anti-judiciary posts on Twitter.
LAHORE (Dunya News) – Lahore High Court (LHC) on Thursday has merged contempt of court petitions against ex-prime minister Nawaz Sharif and his daughter Maryam Nawaz.

Justice Shahid Kareem conducted the hearing during which, the court issued notice to Maryam Nawaz over her anti-judiciary posts on social networking site Twitter.

The judge asked advocate Azhar, why he is not approaching Supreme Court (SC) for this case over which, he responded that LHC can also hold proceeding on it.

It is to be mentioned here that a petition was filed by advocate Azhar Siddiq on the behalf of Amna Malik in which it was stated that Nawaz Sharif delivered anti-judiciary speeches during his Grand Trunk Road rally and termed SC verdict of disqualifying him in Panama Leaks case as conspiracy.

The plaintiff also requested to launch contempt of court proceeding against the former premier.
Earlier, Nawaz Sharif and 11 other federal ministers also issued notices over contempt of court petition.
On August 10, Nawaz Sharif departed for Lahore from Islamabad via GT Road and reached on August 13 amid applause and love from the passionate Pakistan Muslim-League-Nawaz (PML-N) supporters.

Throughout the journey, Nawaz Sharif addressed in big cities including Gujrat, Gujranwala, Muridke and Lahore and denied the SC decision, asking his workers to support him.
He also claimed to take no bribe or commit corrupt practices, saying he was ousted for not taking salary from his own son. "Your prime ministers have been treated this way for the past 70 years," he said.

"This is 2017 and we came in 2013. Pakistan of 2017 is far better. Does Nawaz Sharif deserve such treatment," ex-PM asked.