Nawaz, Maryam, Safdar to appear in accountability court today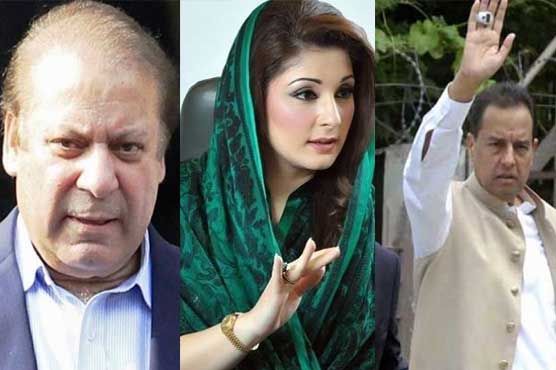 Former PM Nawaz Sharif, his daughter and son-in-law will again appear before accountability court.
ISLAMABAD (Dunya News) - Former prime minister Nawaz Sharif, his daughter Maryam Nawaz and son-in-law Captain (r) Safdar will again appear before accountability court in National Accountability Bureau's (NAB) references today (Tuesday).
According to the sources, former Prime Minister Nawaz Sharif and his daughter Maryam Nawaz will travel from Lahore to Islamabad on Tuesday morning to appear in the court.
Nawaz Sharif is nominated suspect in references regarding Avenfield properties, Azizia Steel Mills and Flagship Investment, while Maryam Nawaz and her husband Captain (r) Safdar are nominated in reference regarding Avenfield properties alone.
Accountability court on Monday had adjourned the hearing of Al-Aziza reference against ex-prime minister Nawaz Sharif till Tuesday due to Faizabad sit-in.
According to sources, National Accountability Bureau (NAB) prosecutor's witness Malik Tayyab will record his statement in Al-Aziza reference. On the other hand two prosecution witnesses, Mukhtar and Umar Daraz, will record their statements in Avenfield properties and Flagship Investment.
Accountability court judge Muhammad will also hear Maryam Nawaz plea seeking to change exemption dates from December 5 to January 5, 2018 and Nawaz Sharif's plea seeking exemption from appearance for one week.