Last Updated On 10 November,2017 07:11 pm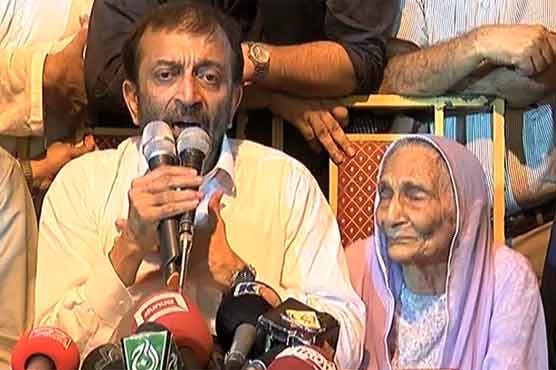 MQM-P chief Farooq Sattar said that I took my decision back on the order of my mother.
KARACHI (Dunya News) - Muttahida Quami Movement-Pakistan (MQM-P) chief Dr Farooq Sattar on late Thursday night took back his decision to quit politics almost an hour after announcing his decision to quit, Dunya News reported.
Farooq Sattar said during a press conference that he took his decision back on the order of my mother. "My mother has asked me to take back my decision to quit politics and ordered to serve the people as before," he said.
Earlier on Thuesday, while addressing a news conference outside his residence in PIB Colony, Farooq Sattar announced to quit politics, affirming to part ways with MQM-P.
The MQM-P leaders tried to stop Sattar and make him retract from his announcement, however, he returned to his home. MQM-P members chanted slogans outside his residence and demanded the withdrawal.
During the press conference, the disgruntled MQM-P chairman rejected the merger with Pak Sarzameen Party (PSP) on Thursday saying he apologises to all party members and the Muhajir community who had "shed tears" on yesterday's developments.
Sattar told that he will visit Yadgar-e-Shuhda Jinnah Ground and no one can stop him from going there. He criticised the role of former Rangers DG Major Bilal and ex-Sindh Governor Dr. Ishrat-ul-Ibad at the time of his arrest.
He clarified that he had only urged an alliance with PSP for upcoming elections during yesterday meeting. "How can we erase our history and forget the martyrs," Sattar asked.
About the election alliance with PSP, he said they had only stretched for it so that peace in Karachi can be prolonged and the issues of the province can be solved with joint action. "MQM-P wanted working relationship with PSP to prolong peace and voice the concerns of the people," Sattar told, stressing that Mustafa Kamal had hurt the feelings of Muhajirs.
Farooq Sattar claimed that MQM has been the only party to represent the middle-class of Pakistan. He went on to demand of all the leaders of major political parties including PML-N, PTI, PPP and ANP to be accountable of their assets.
"I had joined APS in 1979 and became part of MQM when the founder made the party," he told about his humble beginning.
He challenged his political rivals to compare his assets with those of others, describing the purchase of his property and vehicle. "I use a second hand car which is not even mine," he added.
He told that he was the first person to be acquitted by Supreme Court when NAB punished him in a corruption reference. "Engineered politics is unacceptable in Karachi or Pakistan. Only natural politics should be allowed," Sattar made it clear.
Farooq Sattar recalled that the media had declared MQM-P's November 5 rally as amongst the biggest public gathering in Karachi's history. He said that their move for electoral alliance with PSP was taken after November 5 rally and the two political rivals had very little contact before the event.
Moreover, he invited Mustafa Kamal and his party leaders to join MQM-P and merge PSP with "their roots".