Last Updated On 12 October,2017 08:47 pm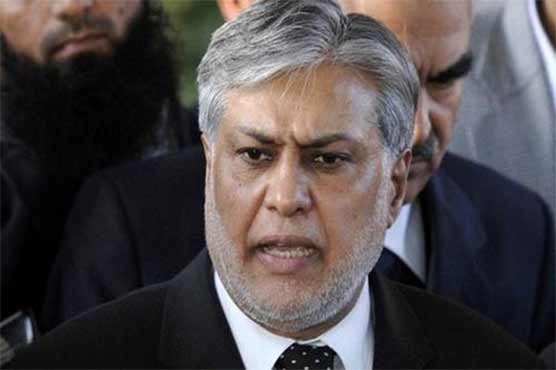 At least 200 personnel of capital police and Frontier Corps have been deployed for security.
ISLAMABAD (Dunya News) – Finance Minister Ishaq Dar has on Thursday appeared for another hearing of assets beyond means case in an accountability court, and National Accountability Bureau (NAB) witness Tariq Javed submitted details of three bank accounts including Hajveri Modarba, a company owned by Dar.
Tariq Javed told that one account was opened in Lahore's bank in 1991 by Dar, and all evidences against the finance minister have been provided to NAB Lahore. He said he has been associated with Al Baraka bank since 1999, and has appeared before the court because NAB wrote a letter to the bank.
Tariq Javed told that NAB had asked the bank to provide attested details of Dar's bank account, and he went to NAB Lahore with verified details of Tabassum Ishaq Dar's account on August 17.
Ishaq Dar's counsel Khawaja Haris questioned on the authenticity of the documents and said anyone can prepare such papers. The documents cannot be made a part of the record until their verification, he maintained. Judge Muhammad Bashir remarked that this is not such a matter, as these are bank documents.
NAB prosecutor said that the papers are according to electronics transaction ordinance, and the objections of Khawaja Haris are not valid. He said that it is court's duty whether to accept the documents as the primary evidence or not. The prosecutor further added that the bank statement starts from October 14, 2000.
Khawaja Haris said no transaction has been made from the account since 2006, and requested the court to make Ishaq Dar's objections a part of the record.
The security was beefed up by the authorities as at least 200 personnel of capital police and Frontier Corps have been deployed in and around the judicial complex. Furthermore, all routes have been sealed off to prevent the entrance of any unauthorized person except one entry point.
---
NAB readies 28 witnesses against Ishaq Dar

---
Witnesses include members of the Joint Investigation Team, formed by the top court earlier this year in corruption cases against the then premier Nawaz Sharif and his family.
The Joint Investigation Team was formed by the apex court in a verdict delivered on April 20th which concluded its findings in two months and filed a report early July.
Following which, the five-member top court bench disqualified the then premier in the corruption reference.
In its verdict, the apex court had ordered filing of references against Nawaz Sharif, his family and relative and minister Ishaq Dar, proceedings of which were to be overseen by a judge.
In compliance to the order, the accountability bureau pursued cases against the former first family of Pakistan and Dar.
The accountability court had indicted Ishaq Dar on September 27. The finance minister had denied all charges that were levelled against him terming them false, and submitted surety bonds worth five million rupees as per directions of the court.