Shah Mehmood calls on Sirajul Haq in Lahore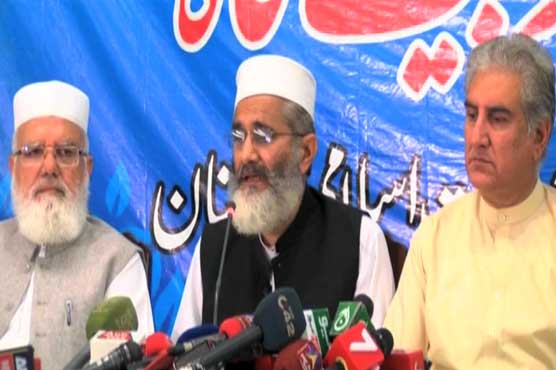 Qureshi said that the government is responsible for making the Electoral Reforms Bill 2017
LAHORE (Dunya News) – Vice chairman of Pakistan Tehreek-e-Insaf Shah Mehmood Qureshi called on Jamaat-e-Islami chief Sirajul Haq on Friday and discussed his bid for leader of the opposition in place of Khurshid Shah and appointment of National Accountability Bureau chairman.
Sirajul Haq convened a meeting with the senior PTI leader in Mansoora and the two leaders addressed a press conference following the meeting.
Haq said that neither the prime minister nor opposition leader should have the authority to appoint NAB chief. He said that Jamaat-e-Islami would formally respond to PTI over Khurshid Shah's replacement bid after in-house consultation.
While talking to the media, Qureshi said that the government is responsible for making the Electoral Reforms Bill 2017 a controversial law.
He extended support to Punjab chief minister Shehbaz Sharif's recommendation to the government of expelling the cabinet member who is responsible for alteration in the Khatm-e-Nabuwat clause.
Both the leaders said that they would be waiting for the actions claimed by the government against those responsible.