Sikhs, Kashmiris protest as Swaraj mongered hate against Pakistan in UNGA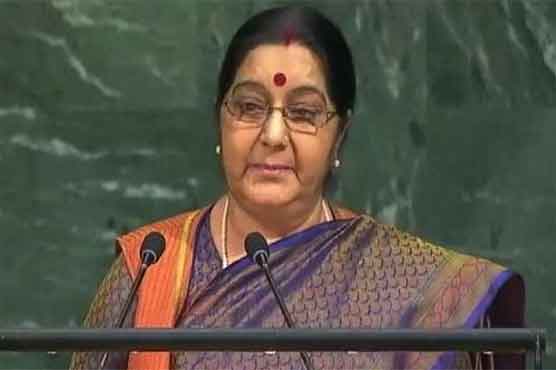 During Indian foreign minister's speech, Sikhs and Kashmiris protested against Indian government
NEW YORK (Dunya News) – During Indian Foreign Minister Sushma Swaraj's speech on Saturday, Sikhs and Kashmiris protested against Indian government's state sponsored terrorism and Indian Prime Minister Narendra Modi s extremist ideology, reported Dunya News.

In a speech where she mongered hate against Pakistan in the United Nations General Assembly (UNGA) session, Swaraj also put light on India's prosperity and development in the field education.
She didn't bother answering Pakistan's Prime Minister Shahid Khaqan Abbasi's questions and instead focused on labeling Pakistan as a terrorist state. However, outside the UN building protesters comprising of Sikhs and Kashmiris raised slogans against the Indian government and said that India's state sponsored terrorism should be put into light in the world forum.
They said that Modi's ideology is based on extremism. Earlier, Prime Minister Abbasi had lambasted India over oppression in Kashmir and its malicious role in Afghanistan.