Last Updated On 22 September,2017 12:20 pm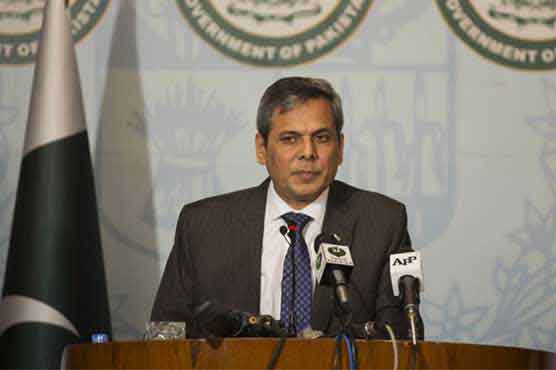 Foreign Office said Balochistan House is receiving funds from India to work in Geneva
ISLAMABAD (Dunya News) – Foreign Office (FO) spokesperson Nafees Zakariya said on Thursday that anti-Pakistan group named Balochistan House is receiving funds from India to spread false propaganda against the state in Geneva. He stressed that Indian PM Narendra Modi himself admitted once that his country funds anti-state activities against Pakistan and Islamabad is well-aware of such malicious anti-state campaigns.
Clarifying the anti-Pakistan posters regarding Balochistan in Geneva, he told Islamabad will resume its dedication the United Nations as well as the member states to ensure that no individual or organization carried out such vicious activities.
In a media briefing in the capital, FO spokesperson expressed disapproval after Japan backed the Indian policy statement. He clarified that meeting between Prime Minister Shahid Khaqan Abbasi was not cancelled, but delayed.
According to Radio Pakistan, Zakariya criticised both the leadership of India and Japan when he was questioned about Pakistan s name mentioned in the context of sheltering terror groups in the India-Japan joint statement made after Japanese Prime Minister s last week s visit to India. On drone attacks, he said neither the Ministry of Defence had verified nor the Ministry of Interior condemned any drone strike.
He reaffirmed that India had sponsored anti-Pakistan movements inside and outside the country. The neighbouring nation funds terror groups to destablise the country, he added. He put forth the findings of journalist Murtaza Ali Shah in which it is clear that Indian diplomat mission in Geneva had transferred funds to Balchistan Liberation Army (BLA) and Balochistan House.
He told that Army Chief Gen Qamar Javed Bajwa will leave for Moscow in the first week of October.