Last Updated On 14 September,2017 08:14 pm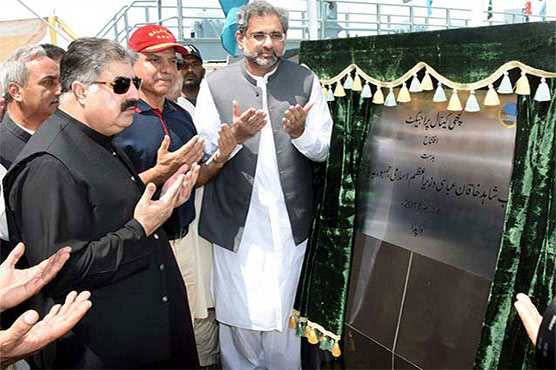 Prime Minister Shahid Khaqan Abbasi inaugurated Kachhi Canal Project in Balochistan
Dera Bugti (Dunya News) – Prime Minister Shahid Khaqan Abbas on Thursday inaugurated Kachhi Canal Project in Dera Bugti, Balochistan.
According to details, due to Kachhi Canal, 72,000 acres of barren land in the district will have access to water. Rs. 80 billion were spent on the project which will help the agriculture sector of the province.
While addressing the citizens of Dera Bugti, Abbasi said that we will supply gas in every corner of Balochistan. "We will end the water problem of the people of Balochistan on permanent basis," he said. Work on this project was started in former prime minister Nawaz Sharif s second tenure, however, incompetence and lack of interest from the other governments led to further delay.
Prime Minister promised to create a hospital costing Rs. 100 million and building a rescue centre costing Rs. 110 millon in the district soon. While talking about former prime minister Nawaz Sharif's disqualification, Abbasi said that he doesn't agree with the decision of Supreme Court but he respects it.
"Country's law and order situation is for everyone to see, anarchy halts progress," he asserted. He said that now people have to make the decision about their rulers, if they want to vote for those who work for them or not.
He said that in the past four years Nawaz Sharif built motorways throughout the country, improved the situation of the water and created another body to curb water crisis in the country. "We are working on projects worth Rs. 200 billion in billion in Balochistan," he claimed.