Defence Day calls for rekindling spirit of selfless devotion to country: Naval Chief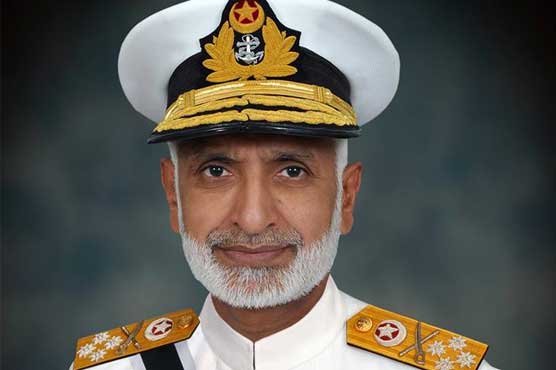 We need to remain alive to the challenges taking place in our region, Admiral Zakaullah said.
KARACHI (Dunya News) - Chief of Naval Staff Admiral Muhammad Zakaullah on Wednesday said that 6th September is reminiscent of a glorious chapter in our nation's history when the unmatched courage of our Armed Forces and infallible spirit of the nation foiled the nefarious designs of a much bigger and deceitful enemy.
"Every year, we pay homage to the Shuhada and Ghazis who rendered immense sacrifices while the nation stood united behind its soldiers, sailors and airmen in the defence of our motherland," Admiral Zakaullah said in his message on the Defence Day.
He said the resolve and unwavering commitment of the Armed Forces quashed the pipe dreams and misplaced ambitions of our adversary.
He reminded that Pakistan Navy through a bold and daring attack on Dwarka, Operation Somnath, right at the onset of the war gained psychological ascendancy and subsequently a single prowling submarine, PNS/M GHAZI ensured that PTT maintained unchallenged superiority at sea throughout the war. This effectively led to the might of the Indian Fleet including their Aircraft Carrier being bottled up in the harbour.
The Naval Chief said we need to remain alive to the challenges and developments taking place in our region.
"As hegemonic and domineering mindset prevails in our eastern neighbour hood, we cannot be oblivious to the threats to our sovereignty and national security," he said.
"While fondly remembering the daring acts of our officers and men who humbled and frustrated the adversary, this day calls for rekindling the spirit of sacrifice and selfless devotion to the country."
Admiral Zakaullah further highlighted that Pakistan is making steady and determined progress on all fronts. However, this does not come without its share of challenges. In the maritime domain; piracy, maritime terrorism and organized crimes continue to pose security challenges to the peace and stability of the region. Development of CPEC and operationalization of Gwadar Deep Water Port integrating regional economies in particular and global economy in general is also facing staunch opposition from forces inimical to the interests of Pakistan. The success of CPEC and Gwadar port project are linked to the safe and secure maritime environment on the high seas.
"Pakistan Navy is also playing a vital role in strengthening maritime and coastal security through various initiatives including raising of a dedicated Task Force - 88 as well as Coastal Security & Harbour Defence Force. Pakistan Navy is therefore, cognizant and fully geared to safeguard against any-threat to Pakistani ports, coastline and. Sea Lines of Communication. Besides, Pakistan Navy is also playing its due role as part of 'Operation Radd-ul-Fassad' in collaboration with Pakistan Army, PAF and other Law Enforcement Agencies in combating security challenges on the internal front," he added.
The Naval Chief dedicated this day to the war heroes' unrivalled courage, valour and perseverance in defence of the motherland.