Was given irrefutable evidence against Dr AQ Khan: Musharraf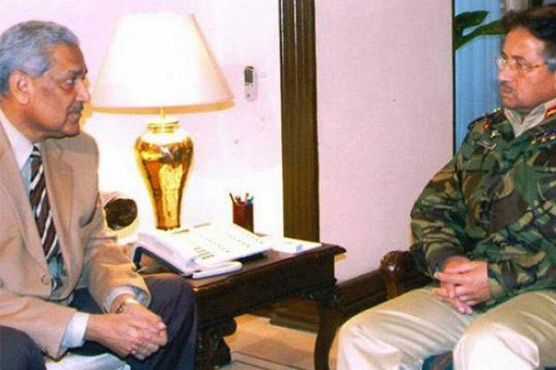 George W. Bush asked him to hold a meeting with CIA chief before he left for Pakistan
LAHORE (Dunya News) – Former army chief Pervez Musharraf has revealed on Tuesday that George Tenet, former Central Intelligence Agency chief showed him irrefutable evidence against Pakistan's nuclear scientist Dr Abdul Qadeer Khan in a one-on-one early morning meeting in his suite during his United States visit.
Musharraf conversed with Kamran Shahid in his programme On The Front Line and talked on the 'proliferation shock' that Pakistan had back in the day.
The former dictator said that George W. Bush asked him to hold a meeting with CIA chief before he left for Pakistan saying that it was very important.
He said that Tenet handed him over photographic and black and white evidence confirming AQ Khan's involvement in proliferation through a Sri Lankan front man who acted as a double agent, the other side for the United States.
Musharraf narrated to Kamran Shahid that he summoned Dr Khan upon his return who after he was confronted, knelt before him and cried.
However, he went on to apologise to the nation in a television broadcast following which he was removed from his post.
The former army chief said that the intelligence communication between Pakistan and US agencies was focused on handing the man over which he said he had denied.
To tell the truth, Musharraf added that he was not under a house arrest but it was for his protection. He said that he has never been more embarrassed in his life than what he went through after George Tenet showed him the irrefutable evidence.
The former dictator who is dubbed as one of the most closest Pakistani leaders to the United States said that he had given a presentation to then premier Nawaz Sharif in General Headquarters (GHQ).
While answering a question about why Pakistan's intelligence agencies could not find out the 'hole in the boat' before the United States, Musharraf said that being an autonomous body, Khan Research Laboratories had its own security and it was completely cut off from agencies.
However, he did not disagree with the security approach and lauded his predecessors for opting for the strategy as he cited if the world turns against you, you have to have a strategy like that.
He denied the claims that he had provided Dr AQ Khan a speech to read out to the nation.
---
Watch video report: