Last Updated On 25 August,2017 10:53 pm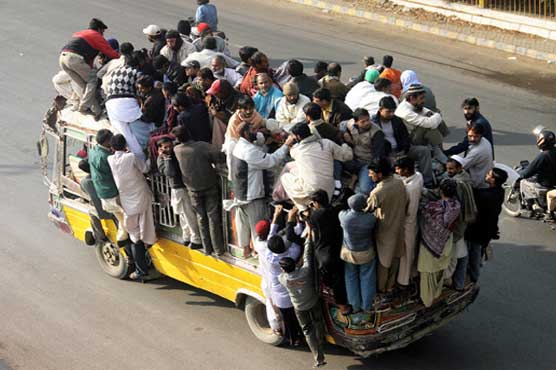 Punjab's population exceeds 110 million, CCI approves provisional results of 2017 census
ISLAMABAD (Dunya News/AFP) – The initial results of Population and Housing Census 2017 held after 19 years was approved in the Council of Common Interests (CCI) headed by Prime Minister Shahid Khaqan Abbasi on Friday, reported Dunya News.
Pakistan s total population is 207.7 million while there are 5.1 million more males than females in the country. Abbasi also lauded the victims of several attacks targeting census officials, including a bomb blast in Lahore in April which killed at least seven people.
Federal Minister for Statistic Kamran Michael told CCI that the population of males in the country is 164 million, while females account for 113 million. Moreover, there are 10,418 transgenders in Pakistan. According to the census the total population of the province of Punjab exceeds 110 million, Sindh accounts for 47.8 million, KPK's inhabitants are 30.5 million and that of Balochistan is 12.3 million. FATA's population is 5 million while Federal Capital Islamabad's populace is 2 million.
Once confirmed in the final report, Pakistan could be set to overtake Brazil as the world s fifth most populous country, according to statistics on the US Census Bureau website.
Pakistan had not held a census for nearly two decades due to years of bickering by politicians concerned it could redraw the political map, raising fears over power bases and federal funding.
The provisional results published by the Pakistan Bureau of Statistics showed an average annual growth of 2.4 percent since 1998, when the total population was put at 132.35 million.
The updated figure -- an increase of around 57 percent since 1998 -- is higher than the estimate of 200 million that had been in wide use.
Central Punjab province remained far and away the most populated, home to more than 110 million people or more than half the country -- but it also showed the slowest average annual growth rate, at 2.13 percent.
The areas with the fastest growth rates were restive southern Balochistan province, with a population of more than 12 million and an average growth rate since 1998 of 3.37 percent, and the Islamabad Capital Territory, whose population passed two million with an average growth rate of 4.91 percent.
The results from the count, which began in March, are also set to help give a clearer picture about religious minority numbers in the Muslim-majority country.
The weeks-long process, a challenge in a country known for corruption and dysfunction, deployed a team of more than 300,000 people and involved 55 million forms.
The results will be the basis for revising political boundaries, parliamentary seat allocations and finances ahead of national elections, due to be held by the end of 2018.
Powerful Punjab province, for example, could see its political grip weaken as a result of its population not rising at a similar rate to other provinces.