Last Updated On 09 August,2017 03:59 pm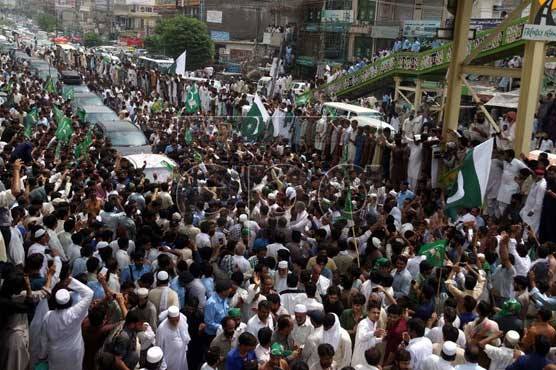 Rally would conclude in Lahore.
LAHORE (Dunya News)- Law enforcement agencies (LEAs) have warned Punjab Home Department against the possible security threats which exist during 72-hour long Pakistan Muslim League Nawaz s (PMLN) rally and recommended to suspend mobile service to avoid any hapless incident.
The concerns were forwarded in a letter.
LEAs also urged Punjab government to beef up security arrangements on route of rally.
Meanwhile, 6000 policemen have been deployed on rally s route whereas section-144 has been lifted in Rawalpindi. The vicinities, located near route of rally, has been sealed by security agencies.
On the other hand, Punjab Home Department has finalized arrangements for Nawaz Sharif's GT road trip. As per details acquired, ousted Nawaz wouldn't be allowed to step out of his bulletproof car.
Sources privy to development said that all offices of Pakistan Tehreek-e-Insaf, located on route of rally, would remain close whereas legal action would be taken against offenders.