Last Updated On 09 August,2017 11:10 am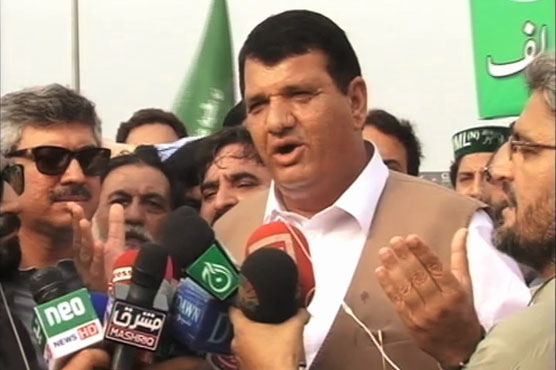 Amir Muqam is leading a rally of PML-N from Peshawar to Islamabad.
PESHAWAR (Dunya News) - Pakistan Muslim League-Nawaz (PML-N) leader Amir Muqam has said on Wednesday that the party workers live and die for Nawaz Sharif.
Amir Muqam is leading a rally of PML-N from Peshawar to Islamabad as former prime minister Nawaz Sharif embarks on his journey from Punjab House in Islamabad to Lahore via the Grand Trunk Road (GT Road) today.
Talking to media, he asserted that they will show Imran Khan the Khyber Pakhtunkhwa's public is with Nawaz Sharif. "Slogans of Nawaz Sharif Zindabad are being raised in KP," he said.
The PML-N leader blamed Imran Khan of having double policies and standards. "Imran Khan paralyzed Islamabd during his 128-day sit-in at D-Chowk. But we are conducting this rally from KP without any government machinery. However; it was seen last year that KP chief minister and others while utilizing all provincial resources were on their way to attack Islamabad," said Amir Muqam.
He articulated that those tactics were legal for Imran Khan then but objections have been raised when Nawaz Sharif is returning home.
"The people are going along with Nawaz Sharif out of their love and loyalty with him. We are committed to the public and not to the opposition. Nawaz Sharif was the prime minister yesterday and will also be in the future," he maintained.
---
---
PML-N leader Asif Kirmani also spoke on the occasion and said that some people have arrived in the country from Canada to poke their nose in unconcerned matters.
He pronounced that it is yet not known when the rally will reach Lahore. "We don't know at what place the night or evening will occur. We will sleep wherever the night approaches us," he said.
---