Ayesha Gulalai's allegations should be investigated: PM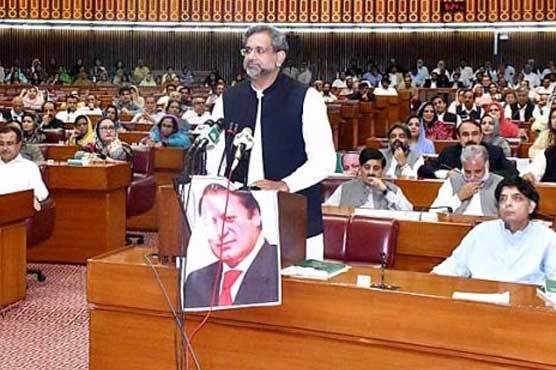 Prime Minister Khaqan Abbasi ordered to provide security to Gulalai.
ISLAMABAD (Dunya News) – MNA Ayesha Gulalai's allegations against Pakistan Tehreek-e-Insaf (PTI) Chairman Imran Khan echoed in the National Assembly today (Friday) when newly-elected Prime Minister Shahid Khaqan Abbasi said the matter should be investigated.
Intervening in the debate on the issue in the house on Friday, he has proposed establishment of a Special Committee of the National Assembly to probe allegations levelled by Ayesha Gulalai against PTI leader Imran Khan. He said the proceedings of the special committee should be held in-camera.
The Prime Minister further said one member of the Assembly has levelled allegations against another and it would be appropriate to handle it at the level of the house.
Shahid Khaqan Abbasi said it is question of honour and dignity of the house and we have to enhance its prestige. He said investigations by the special committee would allow both sides to defend themselves.
He also ordered to Inspector General of Islamabad Police to provide security to Ayesha Gulalai.
Meanwhile, MNA Shagufta Jamani demanded formation of a joint investigationt team (JIT) to probe the matter.
A political bombshell hit the Pakistan Tehrik-e-Insaf (PTI) on Tuesday, with lawmaker and Member of the National Assembly Ayesha Gulalai quitting the party amid allegations of harassment against PTI chief Imran Khan and other top leaders.
---
ALSO READ: Imran Khan's messages hinted at marriage proposal: Ayesha Gulalai
---
In a press conference, Gulalai accused party chief Imran Khan and "the men around him" of inappropriate beahviour with women. "Women workers are not respected in the PTI and a respectable woman worker cannot remain in the party," Gulalai said.
She also accused PTI leaders of sending "inppropriate text messages."
Directly accusing Kham, Gulalai went on to claim that the PTI chief used a BlackBerry phone for the sole purpose of ensuring that his messages are not traced. She refused, however, to reveal the contents of the messages, saying, "No one with any honour will be able to stomach the sort of language used."
The PTI denied all accusations, calling Gulalai a disgruntled worker and fielding senior party leader Shireen Mazari to defend Khan.
---
READ: Apologise or face Jirga, PTI women wing warns Gulalai
---
Gulalai's false allegations, Mazari said, were a response to Imran Khan not heeding her demand to unilaterally approve a party ticket for her in the forthcoming general election in a certain constituency.