Chinese Ambassador to Pakistan congratulates newly appointed PM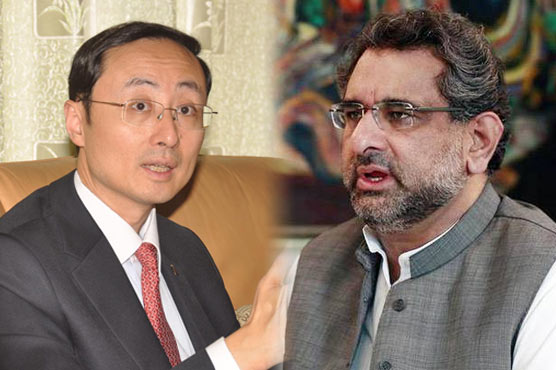 Sun Weidong expressed satisfaction on uninterrupted transfer of power in Pakistan
ISLAMABAD (Dunya News) – Chinese Ambassador to Pakistan Sun Weidong congratulated Prime Minister Shahid Khaqan Abbasi after he was elected in National Assembly session with an overwhelming majority of 221 members.
Weidong met Abbasi in the capital on Thursday and expressed satisfaction on uninterrupted and peaceful transfer of power in Pakistan. He assured that China will continue its cooperation for the progress and prosperity of Pakistan.
PM Shahid Khaqan thanked the Chinese envoy and Chinese PM Li Keqiang. He said the implementation of China Pakistan Economic Corridor (CPEC) will continue to be executed as before.
He also vowed to overview the projects regarding CPEC so that the plans can be accomplished as soon as possible.
Earlier, Chinese PM Li Keqiang had welcomed Abbasi and stressed that their government takes development of Pakistan seriously. China is ready to work with Pakistan to strengthen the mutually beneficial cooperation in different fields with regard to CPEC.