Newly-elected PM meets Nawaz Sharif ahead of cabinet formation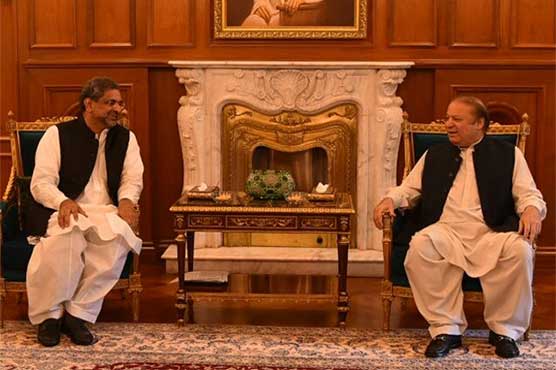 Shahid Khaqan Abbasi held meeting with Nawaz Sharif in Murree.
MURREE (Dunya News) – Ahead of formation of the new federal cabinet today (Wednesday), Prime Minister Shahid Khaqan Abbasi held a consultative meeting with former premier Nawaz Sharif in Murree.
Punjab Chief Minister Shehbaz Sharif was also present in the meeting.
---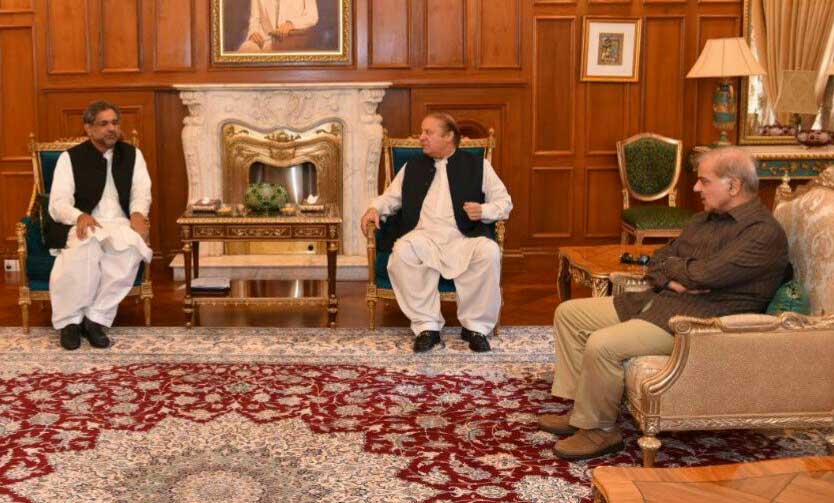 ---
A ceremony will be held at the Aiwan-e-Sadr where President Mamnoon Hussain will administer oath to the new cabinet. Reportedly, most of the former cabinet members would take oath while a few new faces are also likely to be added to the cabinet.
---
READ: Nisar refuses to continue working as interior minister
---
Shahid Khaqan Abbasi was sworn-in as new Prime Minister of Pakistan on Tuesday in a ceremony at Aiwan-e-Sadr. Speaker and Deputy Speaker of the National Assembly, provincial governors and Chief Ministers of Balochistan and Gilgit-Baltistan, the services chiefs, parliamentarians and diplomats attended the ceremony.
Speaking in the National Assembly after being elected as the Prime Minister, he vowed to ensure rule of law, strengthen economy and agriculture and promote tax culture and investment. He said integrated security would be among his top priorities.
He asked the countrymen to pay their taxes honestly as he plans to take stern action against those involved in tax evasion.
He said ten thousand megawatt additional electricity is being added to the national grid.
Referring to the Supreme Court verdict in Panama Papers case, Shahid Khaqan Abbasi said PML-N accepted and implemented the judgment in letter and spirit.