Last Updated On 06 January,2018 12:44 pm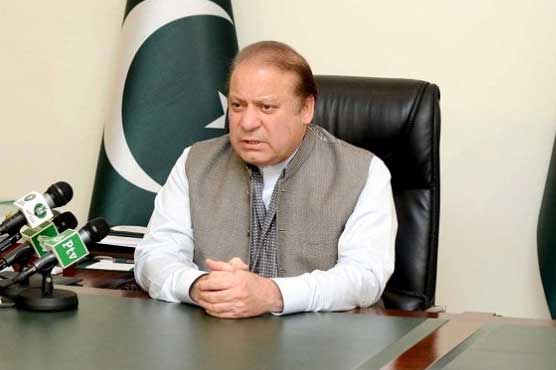 The five-judge larger bench of the Supreme Court announced the decision in courtroom No 1.
ISLAMABAD (Dunya News) – The Supreme Court of Pakistan (SC) on Friday has disqualified Prime Minister Nawaz Sharif in connection with Panama Papers case under Article 62 and directed Election Commission of Pakistan (ECP) to issue his disqualification notification.
The five-judge larger bench of the Supreme Court headed by Justice Asif Saeed Khosa and comprising Justice Ejaz Afzal Khan, Justice Gulzar Ahmed, Justice Sheikh Azmat Saeed and Justice Ijaz-ul-Ahsan unanimously announced the decision in courtroom No 1.

PM Nawaz is no more truthful and honest as he failed to prove his assets of 2013, Justice Ejaz Afzal Khan told the packed courtroom.

"It is hereby declared that having failed to disclose his un-withdrawn receivables constituting assets from Capital FZE Jebel Ali, UAE in his nomination papers filed for the General Elections held in 2013 in terms of Section 12(2)(f) of the Representation of the People Act, 1976 (ROPA), and having furnished a false declaration under solemn affirmation respondent No. 1 Mian Muhammad Nawaz Sharif is not honest in terms of Section 99(f) of ROPA and Article 62(1)(f) of the Constitution of the Islamic Republic of Pakistan, 1973 and therefore he is disqualified to be a Member of the Majlis-e-Shoora (Parliament)."

He also ordered to file reference in National Accountability Bureau in six weeks to investigate matter against Nawaz Sharif and his children. Court also ordered to file reference against Capt (retd) Safdar.

He also directed Nawaz Sharif to immediately leave the premiership and also asked president Mamnoon Hussain to ensure smooth democratic system in the country.

"The honorable Chief Justice of Pakistan is requested to nominate a judge of this Court to supervise and monitor implementation of this judgment in letter and spirit and oversee the proceedings conducted by NAB and the Accountability Court in the above mentioned matters."
Historic: After Iceland the second prime minister - Navaz Sharif - has to leave office because of #panamapapers. Verdict #Pakistan @ICIJorg

— Bastian Obermayer (@b_obermayer) July 28, 2017
According to the PM house, Nawaz Sharif has stepped down from his post "despite reservations" while Federal Cabinet has also been dissolved.

The decision had been reserved on July 21 after the three-member executionary bench comprising Justice Sheikh Azmat Saeed, Justice Ejaz Afzal and Justice Ijaz ul-Hassan heard the arguments of both the parties on Joint Investigation Team and reserved the decision.

The court had in April declared there was "insufficient evidence" to oust Mr Sharif over the graft allegations engulfing his family, and ordered an investigation team to probe the matter.

The team of civilian and military investigators found there was a "significant disparity" between the Sharif family's income and lifestyle in its report submitted to the court earlier this month.

The Sharifs and their allies have consistently rejected the claims, with his ruling PML-N party this month dismissing the investigation team's report as "trash".
---
"Panama Papers" Fallout
---
The Supreme Court agreed last year to investigate the Sharif family s wealth after the opposition threatened protests after the leaking of the "Panama Papers", which revealed his family had bought posh London apartments through offshore companies.

The Supreme Court ruled in April there was insufficient evidence to remove Sharif from office - by a 2-3 verdict - but it ordered a probe by an investigative panel that included members of the military intelligence agencies.

The Joint Investigation Team (JIT) this month returned its findings in a 254-report that said Sharif s family assets do not match their earnings. The panel also accused his children, including heir apparent Maryam, of signing forged documents to obscure ownership of the London flats.

They all deny wrongdoing.

Bribery and other forms of graft are endemic in Pakistan, with the country coming in 116th place out of 176 countries ranked according to corruption by Transparency International in 2017.
---
What Article 62 says
---
According to Article 62, a person shall not be qualified to be elected or chosen as a member of Majlis-e-Shoora (Parliament) unless-
He is a citizen of Pakistan
The person must be of good character and is not commonly known as one who violates Islamic Injunctions
He has adequate knowledge of Islamic teachings and practises obligatory duties prescribed by Islam as well as abstains from major sins
He is sagacious, righteous and non-profligate, honest and ameen, there being no declaration to the contrary by a court of law
---
Nawaz Sharif never completed his tenure as PM
---
Mr Sharif has been ousted by graft allegations once before, during the first of his three terms as Prime Minister in 1993.

He has not yet completed a term as Prime Minister, having been toppled in his second term by a military coup in 1999.

The allegations are a blow to his credibility ahead of general elections due to be held by next year, and as the civilian government appears to have reached an uneasy detente with the military, which has ruled Pakistan for half of its existence.

His party currently has no clear successor in place. Daughter Maryam does not hold public office, while his brother Shahbaz Sharif, the current chief minister of Punjab province, holds only a provincial seat.
---
(Story translated and edited by: Tayyab Younas)