Lahore's terror timeline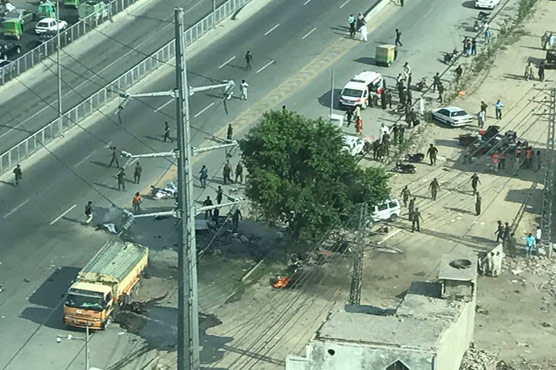 Monday's attack near Arfa Karim is the latest to hit the city. Photo: Twitter
(Web Desk) - Lahore came under attack on Monday as a suicide blast in Sabzi Mandi near the Arfa Karim Technology Park claimed at least 20 lives leaving over 50 injured, according to government officials.
The explosion which is being termed as an attempt to target police and law enforcing officials resulted in the death of 9 police officials according to DIG Operations.
The blast came in the wake of an ongoing anti-encroachment operation that was being conducted in the area since Monday morning. According to Dunya News, a CCTV footage of the area indicated that the blast occurred at 3:55pm. Emergency has been declared in nearby hospitals with the injured being shifted to hospitals. Three motorcycles and a car were destroyed in the blast.
Following is a timeline of some of the major terror attacks the city has witnessed over the years:
January 2008 - Blast at GPO Chowk killed 24 people including 10 police officers
---

March 2008 – Suicide attack on Naval War College killed 6 people
---

March 2008- Blast at building of Federal Investigation Authority (FIA) and Model Town killed 24
---

March 2009 – Terrorist attack on bus carrying Sri Lankan cricket team
---

March 2009 – Manawan Police Training Academy attack killed at least 26 people
---

June 2009 - Suicide blast at Jamia Naeemia Mosque claimed 8 lives
---

October 2009 - Terrorist attack on Manawan Police Training Academy killed 18 people
---

March 2010- Suicide attack in Model Town killed 17 innocent lives; RA Bazaara suicide blast claimed 64 lives
---

July 2009 - Suicide attack killed 55 people
---

December 2009 – Moon Market bombings leaving 70 dead
---

March 2010 – Twin suicide bombings in RA Bazaar claimed 40 lives
---

July 2010 – Twin suicide bombings at Data Darbar killing at least 40 people
---

January 2011 – Suicide attack during Muharram processions
---

April 2012 - 5 were killed at Lahore Railway Station blast
---

October 2013 - Terror attack at Anarkali Bazaar claimed 5 lives
---

November 2014 - 73 were killed at Lahore Wagha Border in a suicide attack
---
February 2015 - 8 people were killed in a blast near Police Lines in Qila Gujar Singh area
---

March 2015 - Suicide blast outside a church in Youhanabad area of Lahore killed 15 people
---

March 2016 – Suicide attack on Easter Day in Gulshan Iqbal Park killed at least 70 people
---

February 2017 – Charing Cross suicide attack near a protest killed at least 10 people
---