Article 58-2(b) in the name of Articles 62, 63 not acceptable: Rana Sana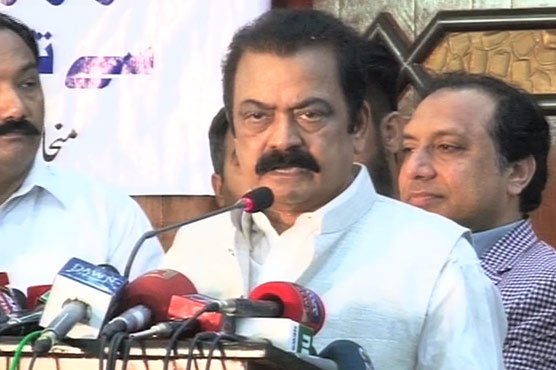 Punjab Law minister condemned Lahore blast and refrained from comment prior to inquiry
LAHORE (Dunya News) – Punjab Law Minister Rana Sanaullah commented on the ongoing political unrest saying the application of Article 58-2(b) in the name of Articles 62, 63 will not be acceptable.
While media talk in Lahore on Monday, he condemned the Lahore blast near Arfa Karim Technology Park and refrained from comment prior to inquiry. He did not confirm whether the blast was a suicide attack on law enforcement officials, however, he claimed that the security situation in Punjab had improved in recent time due to raids of Counter-Terrorism Department (CTD), Punjab Rangers, police and intelligence agencies. He affirmed, "The terrorists are backed by rival powers."
Rana Sana told the terrorists had been changing their names, adding that political terrorists are also the enemies of state who aim to interfere in peace. "We will not allow the political enemies to succeed," he vowed.
While the media talk, the provincial minister was quick to comment on the political unrest, claiming that the ruling party Pakistan Muslim League-Nawaz (PML-N) would triumph the 2018 general elections. He also criticised both Pakistan Awami Tehreek (PAT) Chairman Tahir-ul-Qadri and Pakistan Tehreek-e-Insaf (PTI) Chairman Imran Khan for not responding on the case against them in Islamabad anti-terrorism court for SSP assault.