Last Updated On 14 July,2017 12:39 pm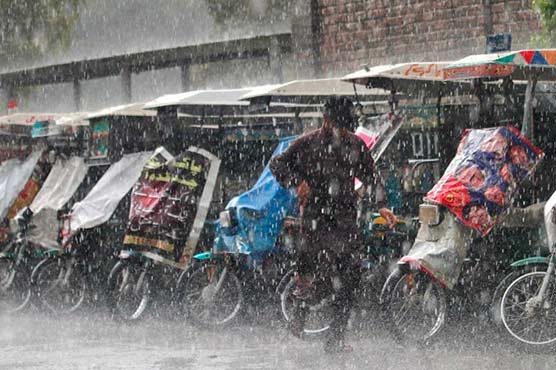 NDMA said they recorded mid-level flood in Kabul River while low-level floods in Jhelum and Chenab
(Web Desk) – National Weather Forecasting Centre of the Pakistan Meteorological Department (PMD) has forecasted rains throughout the country from Saturday to Tuesday, including various regions of Punjab, Khyber Pakhtunkhwa (KP) & Kashmir Gilgit-Baltistan (GB), Balochistan and Sindh.
Met Office said there will be moderate to heavy rains in parts of lower Sindh including Mirpur Khas, Hyderabad & Karachi divisions. The monsoon isolated heavy thunderstorms will also be witnessed in various regions of Balochistan from Sunday to Tuesday, comprising Zhob, Sibbi, Naseerabad, Kalat & Makran divisions. The vulnerable areas of Balochistan may suffer from urban flooding and flash flooding due to localized heavy downpours.
PMD asked the authorities to remain alert from Sunday to Wednesday in order to make necessary arrangement for high accumulation of water and floods. It was further said there will be moderate rains in upper Punjab, KP, Gilgit-Baltistan and Kashmir which could cause landslides and floods.
According to National Disaster Management Authority (NDMA), the water level in Mangla Dam has rose to 1,211 feet due to frequent rains while the maximum level is 1,242. The water level in Tarbela Dam has increased to 1490 feet with 1550 maximum level. There is a mid-level flood in Kabul River and that of low-level in Chenab and Jhelum rivers. A monsoon alert was issued in KP due in sight of the ongoing rains.
Last night, rainfall in several areas of Islamabad, Rawalpindi, Charsadda, Kalabagh, DG Khan, Paharpur and Kashmir caused roof collapse incidents, accidents and landsliding claiming the lives of at least 15 people. Flash floods and landsliding also resulted in massive financial losses.