Last Updated On 13 July,2017 04:46 pm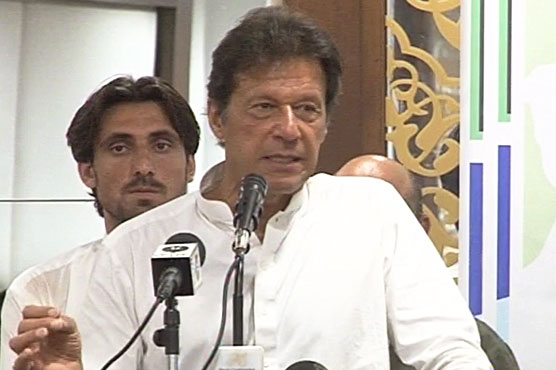 PTI Chairman believes that the system of reward and punishment always succeeds
PESHAWAR (Dunya News) – Pakistan Tehreek-e-Insaf (PTI) Chairman Imran Khan said Thursday the ongoing competition between government schools in Khyber Pakhtunkhwa (KP) is a good step.
While addressing to an event gathering in the provincial capital, he argued that the system of reward and punishment always succeeds, adding that it the only system that values talent. "I have never passed orders in Shaukat Khanum Hospital," he affirmed.
PTI Chief discouraged appointment of teachers on the orders of politicians saying teachers used to be hired on the directions of the MNAs in past. "Any illiterate could be hired as a teacher in that time," he stated.
In addition, he said those people should be hanged who misuse their powers and affect the future of students. Imran Khan stated, "Education budget of a university in Singapore in greater than the whole education budget in Pakistan."
He claimed that English medium system was established by the colonial powers in this region and highlighted the need to have an education system based on equality amongst all.
Moreover, Imran Khan suggested Pakistan Cricket Board (PCB) to adopt the 'progressive' system of the Australian Cricket Board.