Last Updated On 10 July,2017 03:59 pm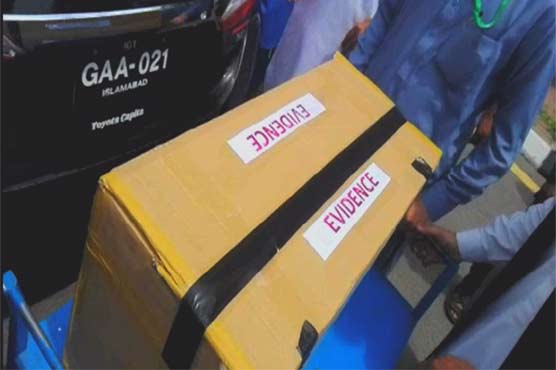 JIT has brought two evidence boxes to submit along with the report.
ISLAMABAD (Dunya News) – Joint Investigation Team (JIT) has presented its final report on much-hyped Panama Leaks case before Supreme Court (SC) today (Monday).

Sources told that JIT has brought three evidence boxes to submit along with the report after which the three-judge special bench of the SC comprising Justice Ejaz Afzal, Justice Azmat Saeed and Justice Ijazul Ahsan will examine them.
---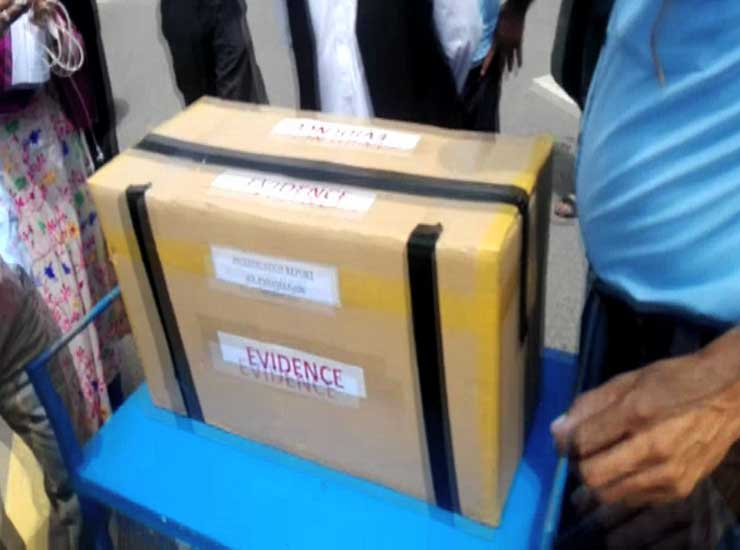 ---
SC takes notices
---
During the proceeding, SC has directed to immediately lodge case against Chairman of Securities and Exchange Commission of Pakistan (SECP) Zafar Hijazi for tempering the record that was forwarded to Panamagate JIT. The court has also ordered to expose the name of the person who incited him.

The bench also took notice of the content published in English newspaper 'The News' regarding JIT report and issued notices to the owner of Geo News and editor-in-chief of The News International Mir Shakilur Rehman and journalist Ahmad Noorani. It also expressed resentment over misreporting by the Jang Group.

Talking on the leaked picture of Prime Minister (PM) Nawaz Sharif's son Hussain Nawaz, SC said that there is no need to form any inquiry commission into the matter.

The judicial authorities have appointed Attorney General of Pakistan, Ashtar Ausaf as prosecutor in all the cases.

The court has also sought script of the speeches delivered by Special Assistant to PM on Political Affairs Asif Kirmani, Federal Minister for Railways Saad Rafique and others during the investigation period of Panama JIT.
The bench has rejected the accusation of giving authorities of JIT to ISI.

SC has ordered to make a 10-volume JIT report public while the plaintiffs and concerned parties can take it from the registrar office. However, one volume of the report would be kept confidential.
Subsequently, the hearing has been adjourned till July 17.
---
Maryam's message to opponents
---
Meanwhile, PM's daughter Maryam Nawaz tweeted, saying those leveling allegations against Sharif family of not submitting evidence should watch this trolley carrying business record since 1960.
---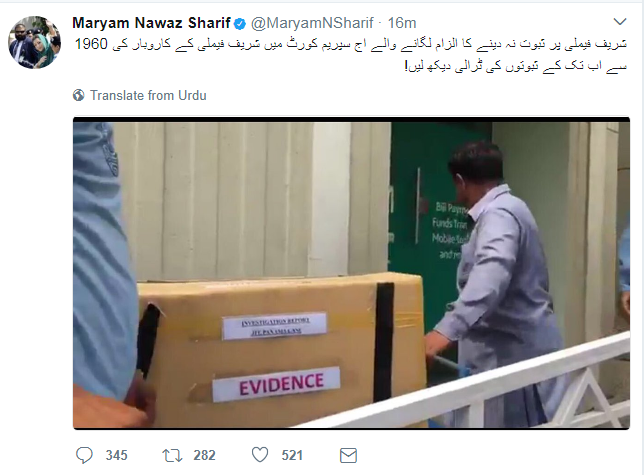 ---
On the occasion, stringent security measures have been taken in the Federal Capital by deploying heavy contingents of police and Rangers to avert any untoward incident. Entry of irrelevant people is prohibited within one kilometer radius of the court.

On April 20, Justice Asif Saeed Khosa had announced Panama Leaks case decision comprising of 540 pages, saying that the court issued a split ruling calling for a JIT. Two of the five judges went further, branding Sharif "dishonest" and saying he should be disqualified, but they were outnumbered.
---
Also Read: Panama: A look at the JIT timeline
---
The court formed six-member inquiry team that included Federal Investigation Agency's (FIA) Additional Director General Wajid Zia, Military Intelligence's Brig Kamran Khurshid, National Accountability Bureau's (NAB) Director Irfan Naeem Mangi, State Bank of Pakistan's Amer Aziz, Securities and Exchange Commission of Pakistan's (SECP) Executive Director Bilal Rasool and Inter-Services Intelligence's Brig Muhammad Nauman Saeed.

The JIT members during the seven-week period interrogated eight members of Sharif family including Prime Minister (PM) Nawaz Sharif, his younger brother Shehbaz Sharif, sons Hassan and Hussain Nawaz, daughter Maryam Nawaz, son-in-law Captain Safdar, cousin Tariq Fazal Chaudhry and brother-in-law Ishaq Dar.

Panama Papers had published a leak of documents belonging to Mossack Fonseca, a law firm in April 2016 creating uproar in Pakistan among other countries. The leak was studied by International Consortium of Investigative Journalists and stated names of incumbent as well as former leaders of the world who owned shell companies.
Opposition parties in Pakistan saw offshore companies owned by daughter and two sons of PM Nawaz as means to either stash wealth in foreign accounts or purchase assets abroad.
The top court took up the case in October last year on petitions filed by Pakistan Tehreek-e-Insaf, Awami Muslim League and Jamaat-e-Islami and reserved the verdict in February after conducting hearings on daily basis.