Last Updated On 09 July,2017 About 4 years ago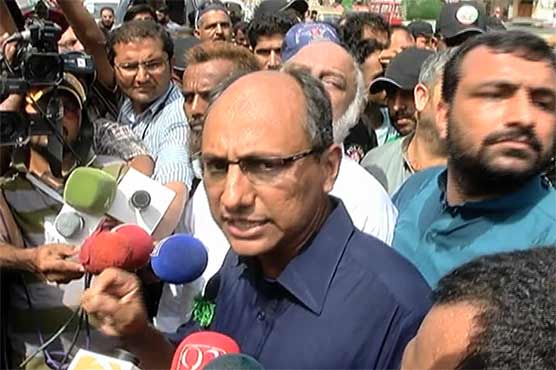 Earlier during the day, clashes erupted outside different polling stations in Karachi
KARACHI (Dunya News) – Saeed Ghani of Pakistan People's Party (PPP) has won the PS-114 by-election by defeating 20 candidates including Kamran Tesori of Muttahida Qaumi Movement (MQM) and Engineer Najeeb Haroon of Pakistan Tehreek-e-Insaf (PTI).
Earlier during the day, clashes erupted outside different polling stations in Karachi including Chanesar Goth.
Members of political parties attacked the polling agent of an independent candidate outisde Government Boys School in Chanesar Goth. They dragged him out of the polling station and assaulted the man however, Rangers immediately took charge and controlled the situation.
Ghani said that he was barred from going to polling station and his women relatives were misbehaved with. PTI protested against PPP and torture on polling agent and announced to register case against the act.
Moreover; media personnel were also not allowed to enter the polling stations despite of having the passes.
In aftermath of the situation, secretary Election Commission contacted Returning Officer (RO) of PS-114. While talking to media, the RO said that voting was underway in all the polling stations and has not been halted in any of them. He confirmed that clashes occurred outside the polling booths but the voting process was not affected.
The polling began at 08:00am and continued till 05:00pm. Strict security arrangement has been made on the occasion as 2,000 Rangers personnel and 1,250 policemen were deployed outside and inside the polling stations whereas they also patrolled the area.