Country won't prosper if judiciary is biased, says Saad Rafique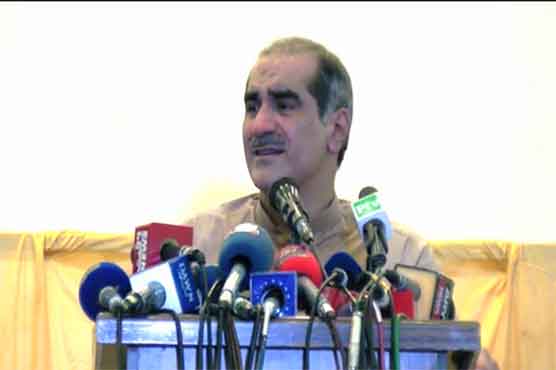 Railways Minister said 'umpire' is the guardian of constitution and democracy
LAHORE (Dunya News) – Railways Minister Khawaja Saad Rafique said Saturday the country will not prosper if the judiciary is biased, adding that the 'umpire' was actually the guardian of our constitution and democracy.
While addressing to workers in Punjab provincial capital, the state minister opined that the nation will suffer if Prime Minister Nawaz Sharif is ousted in an undemocratic way, asking the real crime of Pakistan Muslim League-Nawaz (PML-N).
He mentioned the WhatsApp calls of Supreme Court Registrar as well as the matter of leaking photo of Hussain Nawaz under Joint Investigation Team (JIT) Panama interrogation. "PM Nawaz is neither running a mafia, nor plays the role of Godfather," he stated.
Saad Rafique glorified the role of his party head in restoring judges and criticised Pakistan Tehreek-e-Insaf (PTI) Chairman Imran Khan saying, "He didn't show up as he was camouflaged."
During the speech, he highlighted the need for an unbiased judiciary by giving example of former Prime Minister and Pakistan Peoples Party (PPP) Zulfikar Ali Bhutto's hanging in Zia era.
He also announced yesterday that Pakistan Railways revenue had increased to Rs. 20 billion while its deficit slashed by Rs. 10 billion.
---
Pakistan Railway s deficit has been decreased by 10 billion PKR during the last four years, revenue has been increased by 20 billion PKR.

— Khawaja Saad Rafique (@KhSaad_Rafique) June 29, 2017