Last Updated On 27 June,2017 06:03 pm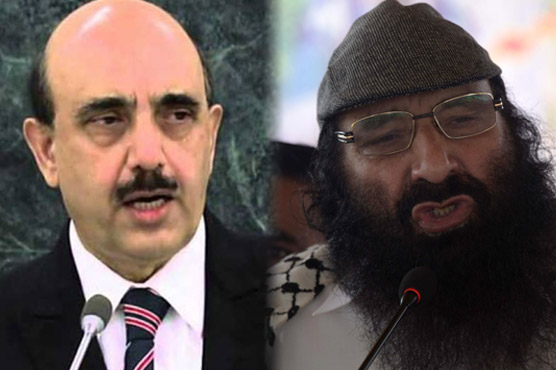 Masood Khan called nexus between US President Trump and Indian PM Modi dangerous for regional peace
MUZAFFARABAD (Dunya News) – President of Azad Jammu and Kashmir (AJK) Sardar Masood Khan has raised concerns on Tuesday over the sanctions imposed by the United States on Hizb-ul Mujahideen chief Syed Salahuddin.
The US State Department declared Salahuddin a globally designated terrorist on Tuesday, just moments ahead of the meeting between President Donald Trump and Indian Prime Minister Narendra Modi. Masood Khan said the nexus between Trump and Modi could prove dangerous for the regional peace. He warned about the ties between both countries and, while discussing the whole issue, declared that the sanctions imposed on Salahuddin were completely unjustified.
AJK President expressed full support for Hizbul Mujahideen and said the organization had been struggling for the freedom of Indian occupied Kashmir, adding that their struggle is not linked to any form of terrorist activity across the border. He maintained that the Indian forces had repeatedly committed atrocities on the innocent men, women and children of held Kashmir. "Ignoring the genocide of Kashmiris by Indian army and declaring freedom fighters as terrorists is a criminal departure from international humanitarian and democratic norms by the US," he stated.
Earlier, Islamabad had also raised concerns over the Washington's decision and made it clear that the right of self determination cannot be denied to the people of Kashmir. "The 70 year old indigenous struggle of Kashmiris in the Indian occupied Jammu and Kashmir remains legitimate. The designation of individuals supporting the Kashmiri right to self-determination as terrorists is completely unjustified," the Foreign Office said in its official statement.