Air Chief extends support for Ahmedpur East tragedy injured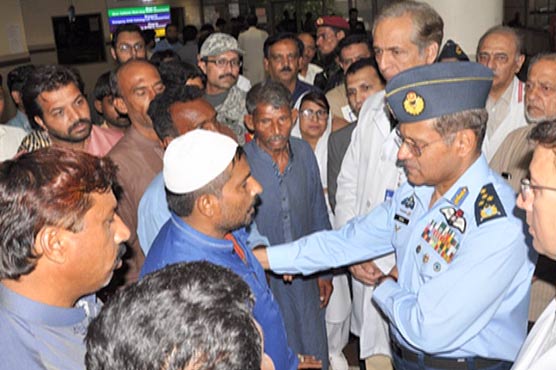 Air Chief Marshal Sohail Aman visited Burn Unit at Lahore's Jinnah Hospital
LAHORE (Dunya News) – Air Chief Marshal Sohail Aman visited the Burn Unit at Jinnah Hospital in Lahore on Tuesday to extend his support for the victims of Ahmedpur East tragedy.
He talked to several families of victims of the oil tanker explosion, and expressed grief at the incidents. Air Chief has vowed to stand by shoulder to shoulder with the victims and their families. "Air Chief assured Pakistan Air Force (PAF) will stand shoulder to shoulder with them (the victims) in the hour of tragedy," said the official spokesperson of PAF.
At least, 148 have lost their lives in the Ahmedpur East incident in which an oil-tanker met a highway accident and fire erupted with explosion while people were collecting the wasted petrol before a sudden spark. Funeral prayers of 125 have yet been held before they were laid to rest.
Hundreds of people are suffering from burn injuries as a large part of the tanker's 25,000 litres had caused fire. Patients are under being treated in Bahwalpur, Lahore and hospitals within several other cities.