Local vendors react to #FruitBoycott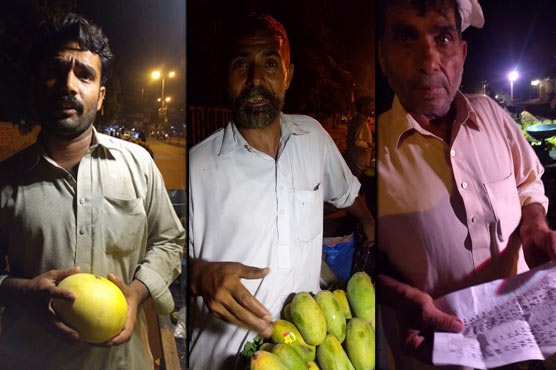 Three-day fruit boycott, starting from today, aims to curb soaring inflation, especially in Ramazan
Reported by Ali Warsi and Umair Sohail, copy written by Ali Warsi
---
LAHORE – While the social media gears up for a boycott of the fruits for three days, there's a debate going on everywhere whether this boycott will actually help the consumers or it'd just damage the already fragile household economies of the poor fruit sellers.
There is no doubt that the prices of the fruits are literally out of the reach for common working classes but it is also true that the basic demand and supply rule of economy also comes into play on occasions such as the month of Ramazan when almost everyone flocks to markets and buys fruit, creating a higher demand and thus causing the price hike too.
Let s try this...if we can unite and breakdown This bussiness maafia.... #FruitBoycott #FruitBoycott pic.twitter.com/mJQdAVyNvn

— Fatima Khan (@FatimaKH_N) June 1, 2017
#FruitBoycott supported.
Millions of ppl can make it happen. Let them know your right to have food at genuine prices. pic.twitter.com/TOiFBKnDZp

— Rumaisa Mohani (@RumaisaMohani) June 2, 2017
To investigate how the fruit sellers have been faring in this Ramazan and what are their problems, DunyaNews.tv discussed the fruit boycott, which kicked off today, with the common fruit sellers in a busy market of Lahore and asked them if they were selling the fruits at higher prices for higher profits only or was the price hike caused by other factors.
---
VIDEO: Fruit sellers respond to boycott drive on social media
---
One of them, selling mangoes on a cart, said: Look at the rate list here. What is the price listed? It's Rs 125 per kg. We sell it between Rs 100 and Rs 120 per kg. We at times even face loss of 10-15 rupees on one kilogram. We're purchasing it at Rs 120 per kg from the mandi (wholesale market). The market is high not because of Ramazan. Ever since the season has begun, the rates at the mandi are extremely high. We need to have at least 10% profit. People don't visit the mandi but blame us for the price hike. There's no shortage from the wholesale market but people are purchasing a lot actually.
Another one selling the melons said that from each cart in the mandi, they pick one good melon for free. "If a person like you goes and buys something, they sell the same fruits to them for 60-70 rupees per piece while they have snatched it from us, for free. I don't know. It's some kind of their own rule that they just pick one good piece from each cart when you're moving out of the mandi", he said.
He added that melons were around Rs 2500-3000 per cart (25 to 30 kilograms) and it costs them 50-60 rupees per kg while the customers wanted the melons for Rs 60 per kg too. "We're buying them now from Barki. It costs us Rs 30 per kg and we sell it at around Rs 40 per kg. Now ten rupees is our right on a kilogram as we can't survive at any rate less than that", he said.
When asked if the prices had gone up due to Ramazan, he said that previously he would buy the melons at about Rs 40 per kg from the mandi and sell it here for Rs 50 to 60 but now it was costing 60 rupees per kg in the mandi.
An elderly man, who was selling pomegranates, showed us the list and said that if one fruit item was officially being sold at Rs 85 per kilogram, how the fruit sellers were supposed to bring the prices down. "Look at the official rate list. You can see the rates here. It is clear that the mandi prices are extremely high. What do I do now? I am only earning around Rs 20 on one kilogram and thus earn about 1000 rupees for a whole day of labour.", he said.
Meanwhile, another fruit seller told that the magistrate and the police officials were also a cause of trouble as they imposed fines on people at will, without proper reason. "They imposed a fine of me of Rs 1000 for no reason at all. I was selling the fruit at the right rate", one of them said.
---
Allegations of bribery on the magistrate, local police station officials
Another man told that he was fined Rs 3000 for not displaying the rate list, despite the fact that he had been selling the fruit at the right price. "I had been selling the bananas at Rs 100 per dozen and it was in accordance with the official rate list. And they also agreed that there was no problem with the rates, just that I hadn't displayed the list. Fact is that even the rate list was right there on the cart. They first fined us Rs 3000 but later left us alone for Rs 2500 and didn't give us any proof of receipt. Moreover, they also took away 2 dozens of bananas with them from my cart, without paying for them".
One more case was brought to light in which a fruit vendor told that he had been fined Rs 3000 but they gave no receipt either. He said that the official rate was Rs 121 per kilogram while he was selling it at Rs 120 per kg. He added that the magistrate first told him to put the mangoes in the shopping bag and put them in the car. "When I reached the car, there were 7 or 8 more fruit seller standing there. They took Rs 3000 from each of them and gave no receipts either. One of their men even gave me a phone number and told me to send easy load on it", he said. The fruit-seller also showed the number written on a small paper.