Last Updated On 26 May,2017 09:53 pm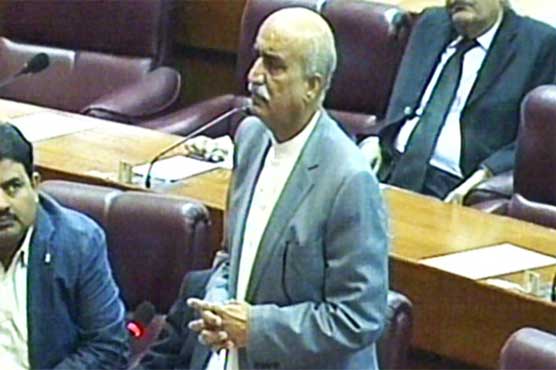 Opposition lawmakers wore black ribbons in NA, symbolising support for the agriculturists
ISLAMABAD (Dunya News) – Opposition Leader said Friday during the National Assembly session on Budget 2017-18, oppression of farmers in Islamabad will not be tolerated.
Farmers were marching towards the parliament while protesting ahead of budget announcement and clashed with police which intensified the situation. Metro bus service was also suspended due to the clash.
He recorded the protest before Finance Minsiter Ishaq Dar's budget speech. He complained saying occurrence of a bad incident in Sindh makes people emotional while cruelty with farmers is being ignored. "Farmers demand their rights," he said.
Commenting on the farmers protest in the capital city, Opposition Leader recalled that firing bullets and baton charge of farmers never happened in their era. He asked, "What's the difference between you and a dictator?"
Khurshid Shah told his party had no plans of staging a protest but they couldn t keep silent on cruel behaviour with farmers. While clarifying the whole incident, he affirmed that the farmers were not protesting in red zone and they were beaten despite a peaceful demonstration. He mentioned contacting other political parties to express combined support for the agriculturists.
Opposition lawmakers were wearing black ribbons during National Assembly Budget 2017-18 session to symbolise support for farmers.
Later on, during Ishaq Dar's speech, most of the members of Opposition walked out of the parliament in protest before making loud noise and chanting slogans against the ruling PML-N government. Opposition Leader asked parliamentarians not to disturb the budget session and requested the government to lift the sales tax on farmers.
---
Related: Protesting farmers clash with police in Islamabad ahead of budget announcement