Last Updated On 22 May,2017 08:25 pm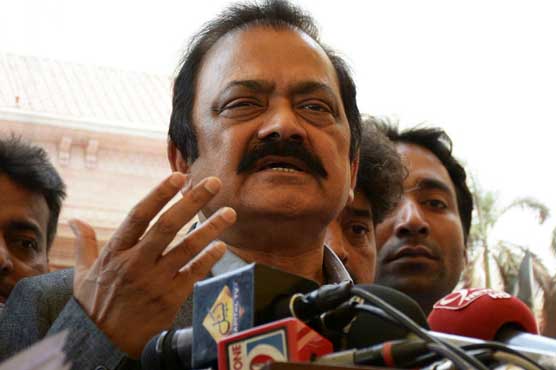 Pakistan has rendered remarkable sacrifices in the global fight against terrorism, says Rana
LAHORE (Dunya News) - Punjab Law Minister Rana Sanaullah has on Monday expressed that Pakistan will never be part of alliance against any Islamic country.
He let it be known at a recent press conference the provincial capital, adding that Pakistan equally value ties with Iran as a neighbour and a Muslim country.
Rana Sanaullah professed that the border violations do not affect relations between the two countries.
The provincial law minister maintained that both Saudi Arabia and the United States have their own foreign policies and it is not necessary that other countries would also agree to it.
"Pakistan's role is to end the hostile relationships between Iran and Saudi Arabia," Sanaullah added.
Punjab Law Minister also expressed that by giving a statement against Iran, the US president has actually violated the diplomatic etiquette.
He professed that the recent statement by Donald Trump will not only create troubles for Saudi Arabia but also for the United States of America while Iran has on the hand gain sympathies because of the statement.
Rana Sanaullah professed that Pakistan has rendered remarkable sacrifices in the global fight against terrorism.
The law minister once again lambasted PTI Chief during his media talk while stating that Imran describes his prejudice in anything.
Rana Sanaullah went on to say that Imran Khan will reap what he sowed in 2018 elections.
"Shallow lies won't make any difference," the law minister reiterated.