Last Updated On 21 May,2017 02:56 pm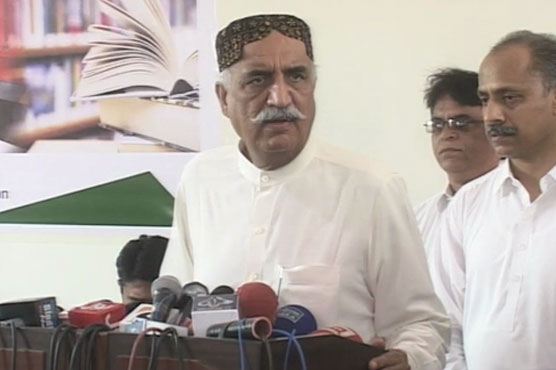 He was talking to media in Sukkur.
SUKKUR (Dunya News) – Opposition Leader Khurshid Shah on Sunday has accused Prime Minister Nawaz Sharif of running a campaign to weaken the federal system of the country.
While talking to media in Sukkur, Shah criticized the government over mistreating small provinces. He said that the government has failed in elimination of loadshedding and will not be able to do so in the future.
"I'm confused and angry over Nawaz Sharif's effort to weaken the smaller provinces. Government's promises to end power outages have failed miserably," he said.
He welcomed Pakistan Tehreek-i-Insaf (PTI) chief Imran Khan in Sindh and also gave him a sound advice.
"I will advice Imran Khan not to bring back the tsunami in Sindh that he took with him to Khyber Pakhtunkhwa. The damage that he has done in KP, should not be repeated in Sindh," Shah urged.
Khurshid Shah said that the government did not plan effectively in Kulbhushan Jadhav's case. He urged to make decision over the matter in the light of Pakistani law.