Last Updated On 30 April,2017 11:35 am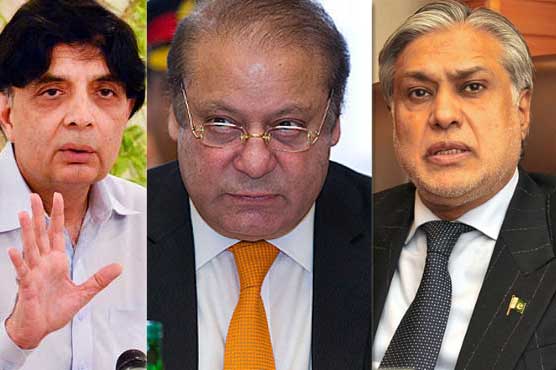 A meeting will be held in Raiwind today, sources told.
ISLAMABAD (Dunya News) – A day after Pak Army rejected Prime Minister Nawaz Sharif's directives on Dawn leaks inquiry as "incomplete", the premier has summoned Finance Minister Ishaq Dar and Interior Minister Chaudhry Nisar to Lahore today (Sunday).
According to sources, an important meeting in Raiwind is expected to discuss recommendations on Dawn leaks issue. Country's prevailing political situation will also be discussed in the meeting.
An article published in the English-language Dawn newspaper in October, detailing high-level security talks, had angered the army and led to the firing of then-Information Minister Pervaiz Rashid.
After an inquiry into a newspaper leak, Prime Minister Nawaz Sharif on Saturday sacked Special Advisor on Foreign Affairs Tariq Fatemi and ordered action against Principal Information Secretary Rao Tehsin.
The prime minister's office, in a statement, said Nawaz Sharif had "approved the recommendations" from the report into the leak, which included the removal of Tariq Fatemi from his post. The notification added Rao Tehsin Ali, principal information officer at the information ministry, will also be sanctioned on the basis of the report, which has not yet been published.
The Dawn newspaper, its editor Zafar Abbas and article author, Cyril Almeida, have been referred to the All Pakistan Newspaper Society for "necessary disciplinary action".
But the army swiftly rejected Sharif's directive.
"Notification on Dawn Leak is incomplete and not in line with recommendations by the Inquiry Board. Notification is rejected.," the military's spokesman, Major General Asif Ghafoor, said on Twitter.
He did not elaborate on what other actions the government should take.
In October, the prime minister's office said the story was "planted" and termed it a "breach of national security."
The Dawn newspaper has stood by the author.