Last Updated On 24 February,2017 10:45 am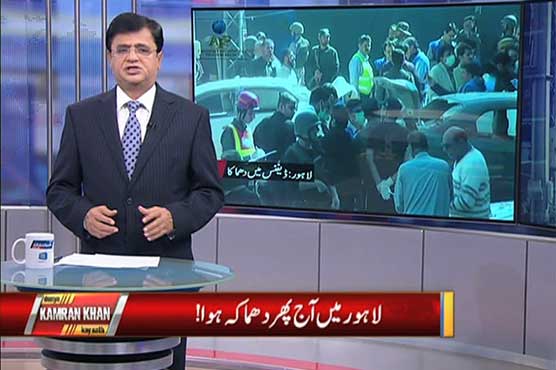 Kamran Khan said Punjab government is hiding some facts.
LAHORE (Dunya News) - Blast in Lahore's Defence area is a matter of grave concern as it has occurred just after announcement of operation Radd-ul-Fassad, said Kamran Khan in his widely watched show Dunya Kamran Khan Kay Sath.
The senior anchorperson said Punjab government is hiding some facts whereas revealing some others.
At 11:58 AM, Punjab government in a tweet narrated cause as a generator explosion. Then, another stance emerged in which police and Punjab government representatives told journalists it was a planted bomb.
"Stance changed later with a statement asserting cylinder blast as cause of explosion in Lahore's Defence Z block market which was then termed as a blast due to chemical material. This confusion prevailed all the day", said Kamran Khan.
However, the Counter Terrorism Department (CTD) at 3:35 pm confirmed that it was actually a bomb that hit Defence market.
Kamran Khan said it was surprising that the Punjab government tried all efforts to prevent media from recording statements of injured.
Either it was a terrorist act or an accident, there was no benefit in hiding the fact, said DIG Operations Haider Ashraf who was presenting official stance in the show.
"It was reality that blast had been reported but it took us time to ascertain cause of blast. Information thus far collected hints toward an accidental explosion," maintained DIG operations.
DIG operations further narrated that it was an under-construction building where gas cylinder weighing 42kg to 58kg were placed. These cylinders were shifted in night at various floors of building. Someone might had lit the fire during gas leakage resulting in huge explosion.