Last Updated On 18 February,2017 09:15 pm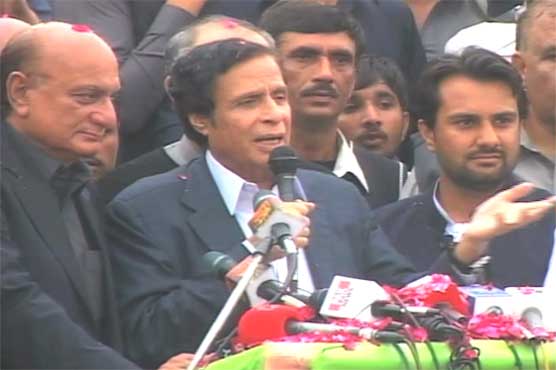 PML-Q leader Chaudhry Pervaiz Elahi expressed grief on blasts in Lahore and Sehwan
MANDI BAHAUDDIN (Dunya News) – While addressing to the workers convention in Saidu Sharif on Saturday, PML-Q leader Chaudhry Pervaiz Elahi said that ineligible rulers are flaunting the one terrorist facilitator which they have caught. They should be ashamed of themselves while visiting victims in hospitals.
"There are no medicines in hospitals and people are dying. The people who died at Mall Road following the suicide attack could have been saved", he said.
He suggested that the people of Mandi Bahauddin should take these leaders accountable when they appear for votes in next elections. Pervaiz Elahi claimed that his government had left Rs 100 billion in the national treasure which these leaders have emptied.
The Pakistan Muslim League (Q) leader told that local body representatives lost their assets in election campaigns after which they now search for employments. "All projects have failed because the rulers lack will. Schemes like Yellow Cab, Sasti Roti, Danesh Schools could not gain success and now CPEC is endangered by them", he added.
He hoped to find good political companions while mentioning rising crime rate and ongoing protests by doctors and paramedical staff in Lahore.