Last Updated On 13 February,2017 04:10 pm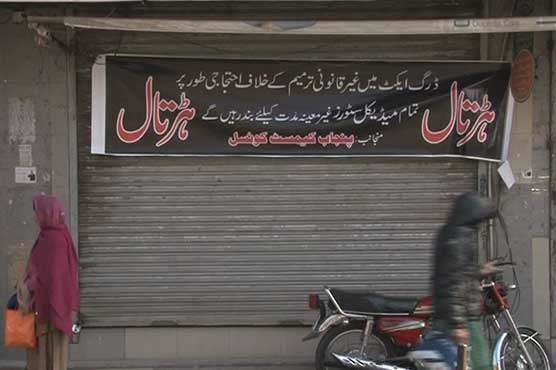 Pharmaceutical associations of Sindh and KP have also announced to support this strike.
LAHORE (Dunya News) – Pakistan Pharmaceuticals Manufacturers' Association (PPMA) has gone on strike Monday against the new drug act in Punjab, and medical stores in several cities have been closed.
Patients are facing difficulties since morning in getting medicines as pharmacies in different cities of Punjab including Lahore, Faisalabad, Multan, Rahim Yar Khan and Rawalpindi are closed.
---
---
Protests are being carried out by the medical store owners in different cities which have made the lives of patients as well as other people miserable. These protesters are saying that drug act has not changed in any other province, why only Punjab?
Due to these protests, traffic in Lahore was first jammed near Shimla Pahari, and then a sit-in was staged at Mall Road by medical store owners that blocked the road.
Likewise, traffic in Gujranwala was also jammed which hindered ambulances to reach hospitals. As a result, relatives of patients carried them to hospitals on their arms and shoulders.
People in Khanewal, Narowal and Vehari are also facing problems to get medicines due to these protests.
Pharmaceutical associations of Sindh and Khyber Pakhtunkhwa (KP) have also announced to support this strike and the wholesale market of medicines in Karachi is also shut.
On the other hand, internal differences between PPMA and Pakistan Chemists' & Druggists' Association (PCDA) have arisen as well. One group has announced strike and other has negotiated with Punjab's Minister for Primary & Secondary Health Khawaja Imran Nazeer and decided to postpone strike till February 17.
It is pertinent here to mention that according to new drug act in Punjab, punishment of five-year jail with one million rupees fine has been announced for those who will sale substandard medicines, five-year jail and five crore rupees fine for those who will sale fake medicines, ten-year jail and ten crore rupees fine for those who will sale medicines without license.
Punjab government has also given its statement over this issue and said it will keep on taking stern action against those who sale fake and counterfeit medicines. Khawaja Imran has also said that the reason behind these protests is to get away with selling substandard medicines.
---
Video Package: