Success of Karachi operation linked with operation in Punjab: Qadri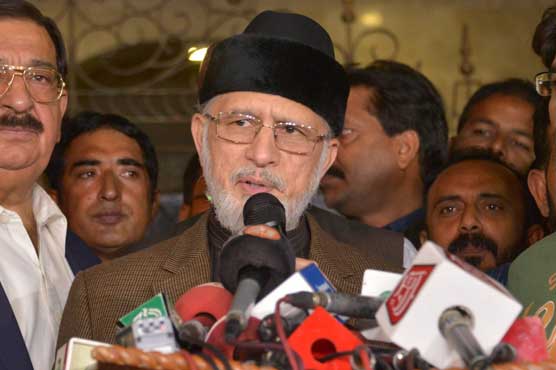 Tahirul Qadri spoke to reporters in Karachi.
KARACHI (Dunya News) – Pakistan Awami Tehreek (PAT) chief Tahirul Qadri on Sunday stated that Pakistan is going through its most crucial time, and operation in Karachi will only be successful if similar operation is conducted in Punjab.
"Operations took place in Karachi, Waziristan, Quetta and other parts of the country, but I think success will only be achieved if terrorism is eliminated from Punjab," he told reporters on his arrival in Karachi.
Qadri further stated that the rulers are trying to pave ways for 'monarchy' in the country. Letter of Qatari prince has proved their corruption.
"Their corruption has been exposed. Now it is test of the institutions," he added.
The PAT chief further emphasized that nation must wake up for resolution of issues.
Last week, in a special interview with Dr Moeed Pirzada, Qadri had stated that corruption to the tune of billions of rupees is being committed whereas 'Arabs' are coming to save the ruling family.
He said that whatever happened in Afghanistan, Yemen, Egypt, Libya, Iraq and Syria, he has an apprehension that the same can happen here as well because one family and their corruption has become stronger than the whole system.
He said that Pakistan has defied the machinations of the enemy forces because of being a nuclear power. He said that as long this nuclear power remains in the hands of the army, the enemy cannot succeed in its nefarious designs. He said that some forces want to roll back Pakistan's nuclear capability as they do not want to see Pakistan's internal and external security being safe. He said that the Pakistan military is the biggest hurdle in the way of designs of such powers.
Dr Tahirul Qadri said that corrupt and self-serving rulers are not interested in anything else other than their business empire and interests.