Officers involved in Model town massacre sent abroad: Tahir-ul-Qadri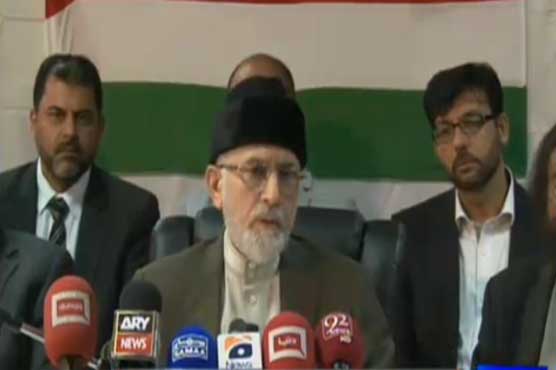 PAT Chairman Tahir-ul-Qadri said that we would continue our struggle for justice at all platforms
LONDON (Dunya News) – Chairman Pakistan Awami Tehreek (PAT) Tahir-ul-Qadri on Saturday said that we have to turn to international courts because we did not get justice in Pakistan, reported Dunya News.
Addressing a press conference in London, Tahir-ul-Qadri said that he has come to London to seek justice for Model town massacre. He said that all the police officers who killed innocent people in Model town have been sent abroad by the government.
Tahir-ul-Qadri accused that Amir Riaz Cheema had been sent abroad for training adding that officer Abdur Raheem Sherazi who dragged our women had also been sent to London. He said that Punjab Law Minister Rana Sanaullah had been temporarily removed and was made minister again and Principal Secretary Tauqeer Shah was sent to Geneva.
We had to bring hundred of thousands of people on streets just to get FIR registered, PAT chief said.
PAT chief also said that state terrorism was demonstrated in Model town and world have not seen incident like this. He said that our workers were killed in front of the media. Tahir-ul-Qadri also said that the report of Justice Baqir has not been published yet after two years. Tahir-ul-Qadri reiterated that our struggle for justice will be continued.