Last Updated On 17 August,2016 05:51 pm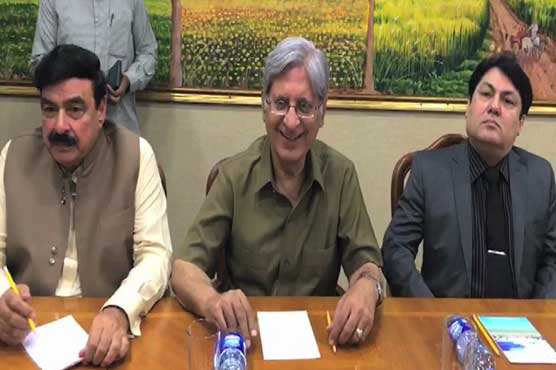 The joint opposition has asked NA Speaker to vouch for government's flexibility
ISLAMABAD (Dunya News) – Joint opposition convened a meeting with National Assembly Speaker today in bid to ease the deadlock that persists with the government over finalisation of joint Terms of References for probe of Panama leaks against premier's family, reported Wednesday.
Reportedly, Leader of the Opposition in National Assembly, Khurshid Shah stated during the meeting that members of the joint opposition have shown flexibility in previous meetings and were not sure if they could do that anymore.
The opposition agreed that process of holding influential people accountable should start with Prime Minister Nawaz Sharif and his family.
The joint opposition has asked NA Speaker, Ayaz Sadiq to vouch for government's flexibility if they have to meet its members.
While talking to the media after the meeting, Shah Mehmood Qureshi, Vice-Chairman of Pakistan Tehreek-e-Insaf said that stance of the opposition strengthened over a period of time.
Aitzaz Ahsan, Leader of the Opposition in Senate said that opposition could not show flexibility further in the issue and the ball was in government s court.
Meanwhile, Pakistan People's Party's Lateef Khosa addressed the media outside Election Commission of Pakistan and alleged ruling Pakistan Muslim League-Nawaz party of having made politics, a family business.
He lambasted the Prime Minister stating that he was not eligible to represent the nation.
The meeting today was convened after Speaker Sadiq summoned a session of the TORs committee earlier, comprising of both government and opposition members, but was postponed in light of Quetta blast that claimed over 70 lives.
There had been no formal contact between the opposition and the government over TORs deadlock until today ever since the terror attack.
Representatives of Pakistan People's Party besides Ahsan, Muslim League-Quaid-e-Azam, Tehreek-e-Insaf, Jamaat-e-Islami and others attended the meeting.
According to the sources, head of Qaumi Watan Party Aftab Sherpao, Awami Muslim League chief Sheikh Rasheed, Senator Israrullah Zehri.
It should be mentioned here that Shah Mehmood Qureshi and oher members of the joint opposition had previously declared meetings with government members useless for agreement over TORs.
The joint committee met at least five times over the course of past few months.
The committee was formed with six members from the government and six from different opposition parties to finalise a course for probe of Panama leaks that involved Prime Minister Nawaz Sharif's two sons and a daughter.
The development had come in on offer of the premier himself which was accepted by Leader of the Opposition in National Assembly, Khurshid Shah on behalf of the joint opposition.
Earlier this year, International Consortium of Investigative Journalists compiled a report on offshore companies across the globe and their owners which included around 140 world leaders among famous personalities.
However, family of the premier denied wealth stashing and evading taxes using the companies.