Court grants Waseem Akhtar's physical remand until July 25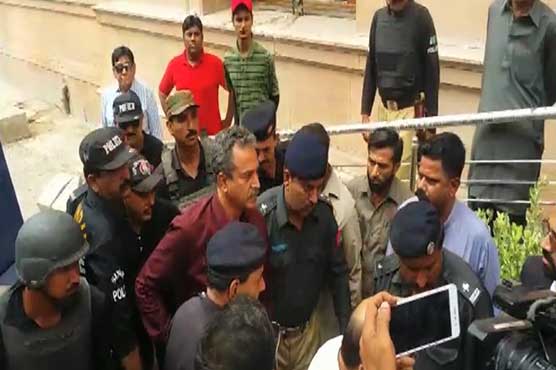 The high court has dismissed bail plea of Anees Qaimkhani
KARACHI (Dunya News) – Sindh High Court has remanded Muttahida Qaumi Movement's mayor-designate Waseem Akhtar in police's custody for five days as accused in a terror facilitation case, reported Thursday.
The decision has come in a day after Akhtar, accused in terror facilitation case, approached the high court to seek bail before arrest.
Among Akhtar, Rauf Siddique and Anees Qaimkhani had also sought assistance in the case from the high court.
Justice Ahmed Ali and Justice Iqbal Mehr of divisional bench of the high court have dismissed bail plea of Qaimkhani, instructing him to move to trail court.
Qaimkhani's counsel, Farooq Advocate maintained that his client was out of the country at the time and he has been made a part of the case on 'mere' statements of Joint Investigation Team and witness.
Trial court's rejection of bail extension does not meet the requirements of the law this it should be overturned, Farooq urged the court.
However, Qaimkhani will reportedly approach the anti-terrorism court today after high court's order.
The mayoral candidate of Karachi, Pak Sarzameen Party's Qaimkhani, MQM's Siddique and Pakistan People's Party's Abdul Qadir Patel were named by Dr Asim Hussain, former minister of petroleum during interrogation in case regarding facilitation of terrorists and target killers in Karachi.
Dr Hussain had stated that he treated terrorists in his hospital called Ziauddin Hospital on request of the aforementioned accused persons.
In a rather dramatic turn of events on Tuesday, bails extensions of all four of the accused were dismissed by an anti-terrorism court.
All the accused persons were present in the court for hearing of the case however, they were detained and taken into custody from the courtroom.
Patel, meanwhile managed to escape the police personnel and left the court only to offer his arrest at Boat Basin Police Station later that day.
His surrender came in after home minister, PPP's Suhail Anwar Siyal ordered immediate arrest of the absconder. However, no charges were pushed against him after he stated that the courtroom was locked and he did not abscond.
Dr Asim Hussain is defending terror charges against him after he was arrested by Rangers in 2015 from Sindh Higher Education Commission headquarters and a case was lodged at North Nazimabad Police Station after 90 days of remand expired.
The former minister has denied the accusation of providing shelter to target killers and terrorists is his hospital under the cover of medical treatment.